WWII Mission Logs, 527th Bombardment Squadron
A collection of journal entries by Clifford Lopp, detailing bombing runs flown over Nazi occupied Europe in 1945.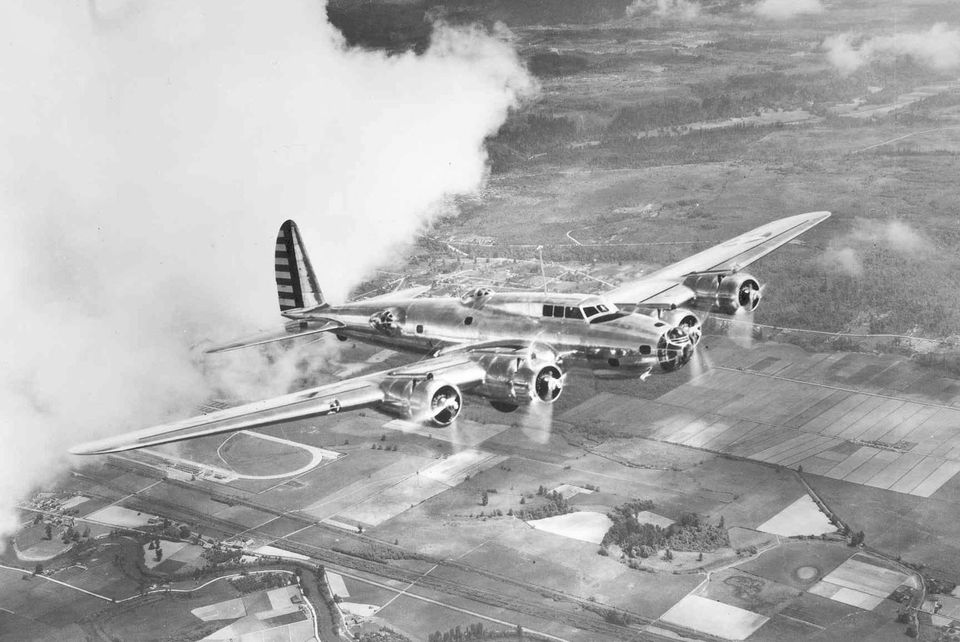 Clifford Jacob Lopp was 20 years old when he began flying missions as a gunner and bombardier in a Boeing B-17 Flying Fortress over Nazi Germany.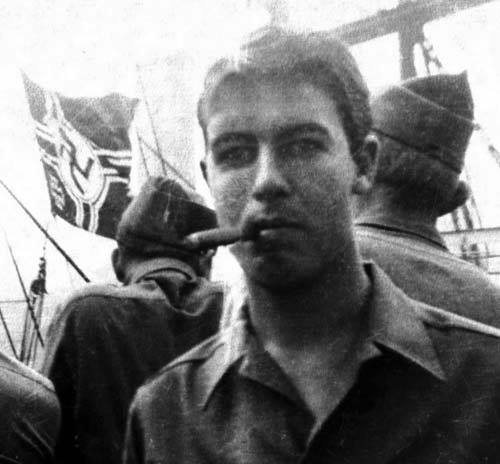 Clifford joined the U.S. Army Air Corp and was assigned to the 527th Bombardment Squadron which was part of the 379th Bomb Group during World War II, serving in Rhineland, Ardennes, and Central Europe as an Aerial Gunner. Assigned to RAF Kimbolton in early 1943, the group flew more sorties than any other bomb group in the Eighth Air Force, and dropped a greater bomb tonnage than any other group. The combat record of the 379th was the most successful of all the Eighth Air Force heavy bomber groups, receiving two Distinguished Unit Citations.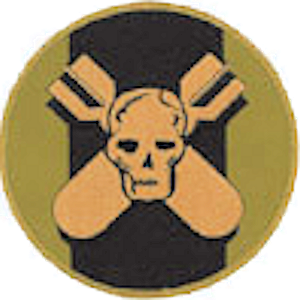 When I was a young child my grandfather would often make mentions of the war and of our own German heritage, though he would rarely go into detail about his personal experience. I distinctly remember that I was under the mistaken assumption that he fought on the German side until I was nearly 10 years old, because he wouldn't mention that he was attacking Germany.
Thus, my family was astonished to find Clifford's handwritten mission logs buried deep in a stack of paperwork after his passing.
The B-17 Flying Fortress
Before the advent of long-range fighter escorts, B-17 bombers flew in box formations so that their machine guns could provide overlapping fields of fire to protect each other, though at a sacrifice of rigidity of flight paths, which led to increased dangers from ground-based anti-aircraft guns. These bombers became renowned for their durability. Many stories were told where major sections of the bombers, such as the tail fin, were destroyed but the crews still returned home safely.
A typical crew of a B-17 Flying Fortress bomber consisted of 10 men. Keep this number in mind when reading the mission logs below. The commanding officer was the pilot, and the executive officer was the co-pilot. The bombardier was also an officer, manning the chin turret during flight but taking control of the entire bomber during the actual bomb run, even flying the aircraft at that time, via the connection between his Norden bomb sight and the auto-pilot system. The navigator, another officer, kept the aircraft path during the flight and manned the cheek guns when attacked. The flight engineer, a non-commissioned officer, was trained in the basic mechanics of the entire aircraft, and manned the top turret when attacked. The radio operator, a non-commissioned officer, handled communications and served as the medic when necessary. Finally, the four remaining crew members, all non-commissioned officers, manned the ball turret, left waist gun, right waist gun, and the tail gun; although these bombers were durable, to call them "fortresses" was a exaggeration, thus the gunners served an important role.
It's worth noting that the conditions endured by the crew of a B-17 were nothing like what you have experienced during modern day commercial air travel. For one, the cabin was unpressurized and unheated. At high altitude you'd better not lose your oxygen mask or your coat, lest you suffocate or freeze to death. The B-17's turbocharged Wright R-1820 Cyclone 9 engines output 1,000+ horsepower each; crew could expect the noise levels in the cabin to be around 95 decibels for the ~10 hour flight. During their flight they were not only exposed to the noise of the propellers but also the noise of enemy resistance from flak and Messersmidtt fighters along the way, not to mention the 132 decibel chatter from the dozen Browning M2 .50 caliber machine guns located around the ship itself.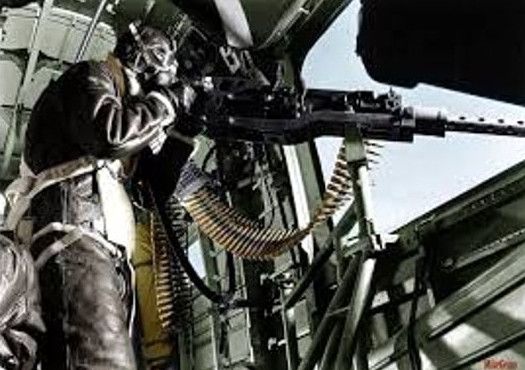 My grandfather, like most airmen, suffered significant hearing damage from the hundreds of hours he spent flying missions in inhospitable conditions. The Army did not issue hearing protection; after all, two thirds of airmen weren't going to survive their tour of duty.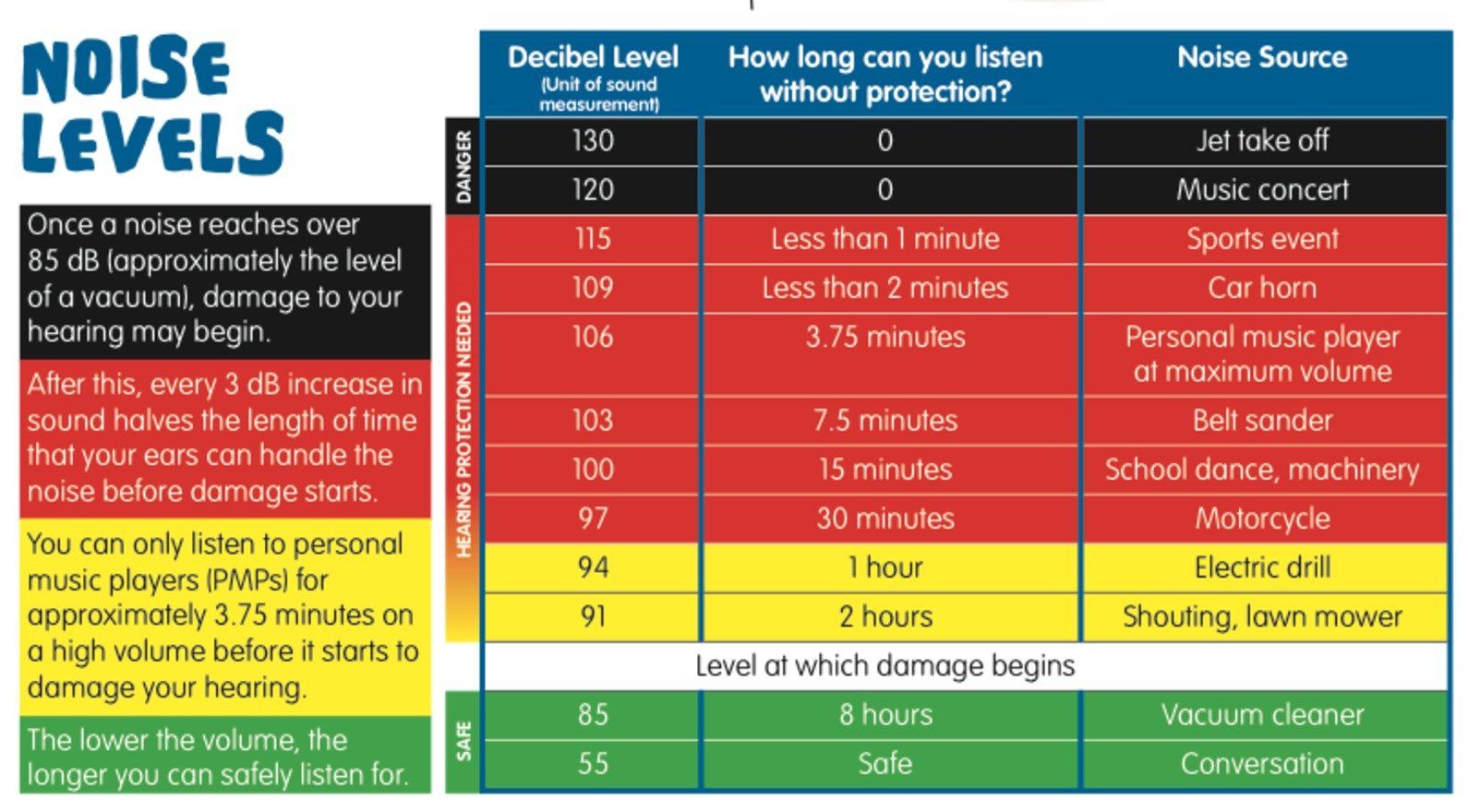 Flak
In 1944, flak from anti-aircraft guns accounted for 3,501 American planes destroyed, only 600 fewer than those lost to enemy fighters in the same time period. AA guns were grouped in fours with a predictor (a device used to estimate where the aircraft would be by the time the shell reached it and thus provide information as to where to aim).
When the flak batteries pinpointed an aircraft, the guns were fired in salvos designed to burst in a sphere 60 yards in diameter. Each gun could project a shell to 20,000 feet and could knock out an aircraft within 30 yards of the shell burst. However, the shrapnel from the explosion was still capable of inflicting serious damage up to 200 yards.
You can learn a ton more about flak from this 1944 educational video:
Clifford Lopp's Mission Logs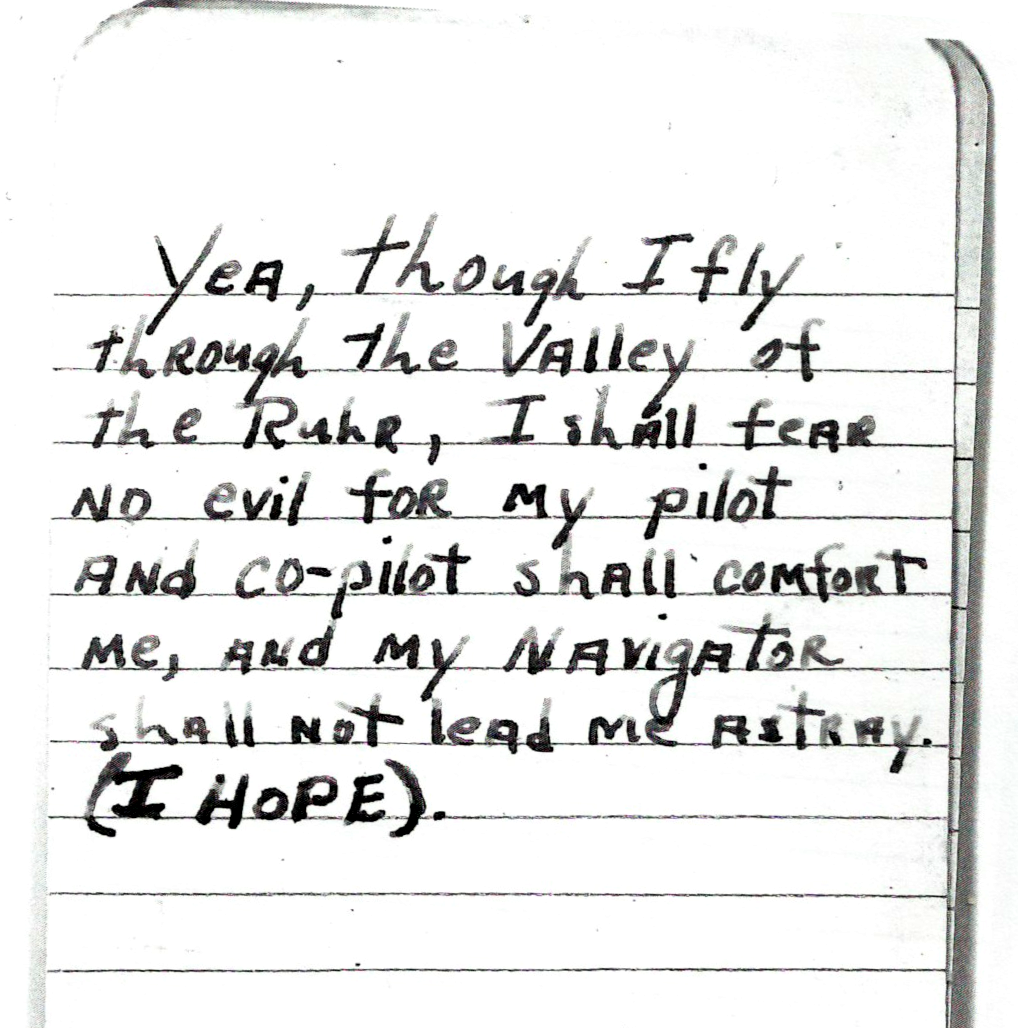 Left C.M.S. 12-12-44
Arrived Liverpool Harbor 12-20-44
Debarked 12-21-44
Arrived Stone, England 12-21-44
Left 12-23-44
Arrived Kimbolton, England 12-23-44
STARTED MISSIONS 1-22-45
COMPLETED 4-14-45
MISSION 1
January 22
Sterkrade, Germany
Snowing takeoff
Altitude 24,000 feet
Payload 10X 500 pound bombs
Heavy Flak - 2 holes in wing
Target visual: Oil refinery in Ruhr Valley. Good hits.
Temperature -64F - mask froze up
Co-pilot Griffin had to crank bomb bays open and closed.
No enemy fighters.
Saw Zuiderzee
Low-Low Squadron
Position: chin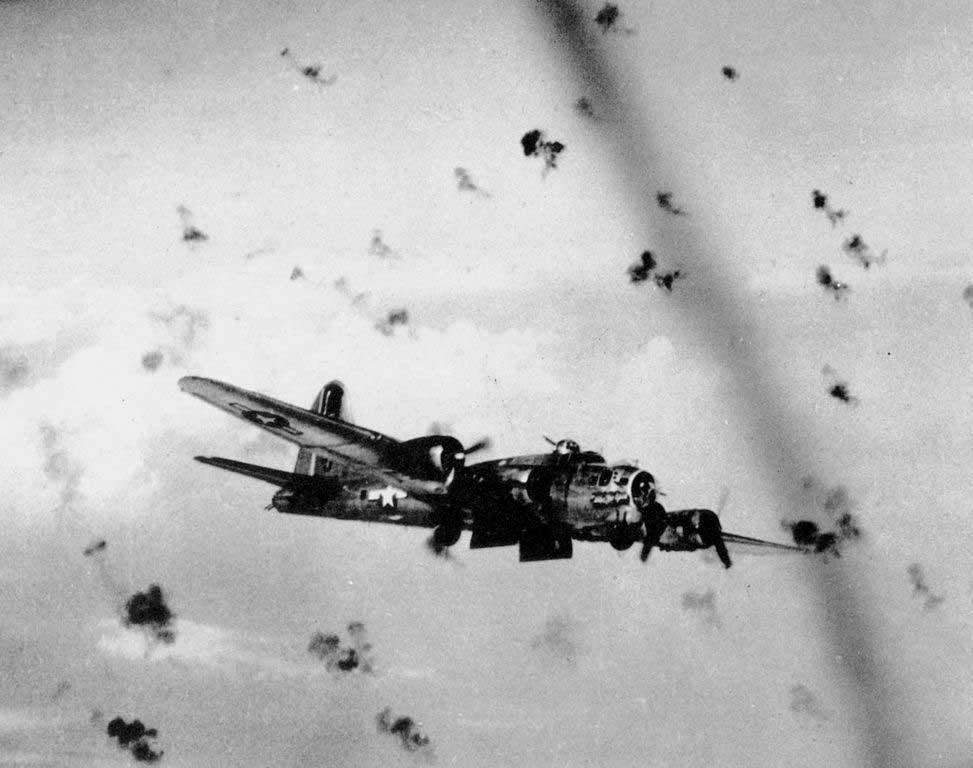 MISSION 2
January 23
Neuss, Germany
Altitude 27,000 ft
Take-off 7:30
Intense flak - 6 holes in plane
Nose damaged
Had to make 2 runs on target
Flak over front lines
Position - #2 high left wing
Temperature -43F
Payload 10X 500 lbs, 2X incendiary
Saw flooded point of Holland
P-51 escorts - no enemy action
Diverted to Ridgewell, came back by truck
Saw V bomb explode
Note: V bomb probably refers to the V-1 flying bombs (missiles) developed by the Nazis. I assume that the reason he saw it explode was that their target was a munitions depot that housed these bombs.
MISSION  3
January 29
Seigen, Germany
Altitude 24,000 feet
No flak - target not visual
Element Lead - Right
Low Squadron
Temperature -47F
P-51 Escorts
Largest number of bombers yet seen
Payload 12X 500's GP
Position: right waist
Note: GP refers to "general purpose" bombs
MISSION 4
February 1
Manheim, Germany
Plane 049
Altitude 25,000 feet
Light flak
Lead Element, Lead Squad
Temperature -40F
Payload 10X 500 GP, 2 incendiaries
P-51 Escorts
Target: Railway Center
MISSION 5 - "Big B"
February 3
Berlin, Germany
Altitude 26,500 feet
Heavy, accurate flak
Lead group, high squadron
Element lead
Temp -42F
Payload 10X 500 lbs
P-51 escorts
Target visual fighters
Excellent bomb strikes
Bombardier: Munson "Gismo"
February 6
A/S Rescue patrol off coast of northern Holland occupied by Nazis.
Looking for survivors of Berlin raid.
4 planes, P-51 escorts
Note: Apparently this rescue patrol did not count as a mission.
MISSION 6
February 14
Dresden, Germany
Plane 049
Altitude 28,000 feet
No flak over target
Heavy, accurate flak coming back
Saw 1 plane go down, 5 parachutes out.
Ran out of gas, landed in Liege, Belgium
Several flak holes
Another plane tried to land there, crashed, 5 got out.
Returned same night.
Ball turret passed out from anoxia
Cebehars crew lost
Temperature -42F
MISSION 7
February 15
Dresden, Germany (secondary)
Plane 111
5 planes got off
Light flak
High squadron
Low on gas
Take-off 0800 ETA 1600
Payload 18X 250 lbs
MISSION 8
February 16
Langendreer, Germany - Ruhr Valley
Plane 049
Oil Target
Intense, accurate flak feathered #1 engine
Left formation, came back alone
High formation, hi element lead
Visual run
Payload 20X 250 lbs
Large flak holes
Schultz - bombardier
Hit target right on the nose
MISSION 9
February 20
Plane 049
Nuremberg, Germany
Altitude 24,500 feet
Payload 6X GP 500 lbs, 6X M1-17 540 lbs
Moderate flak, very accurate
2 holes in plane
9/10 clouds, could see bombs hit marshaling yards
Largest daylight raid
Plane 111 went down over target
Lt. Palmer, W.G. Clark
P-51 Escorts
Note: Plane 111 was the same plane Clifford crewed in mission 7.
M117 bombs are demolition bombs with time delayed fuses that allow the bomb to burrow into a building before exploding.
Marshaling yards are railway depots where many tracks come together and railcars can switch from one track to another. Destroying these yards greatly hampers supply chains and movement of troops / equipment by the enemy.
MISSION 10
February 21
Nurember, Germany
Altitude 24,500 feet
Payload 5X GP, 7X M1-17
Light flak
PFF Bombing
Could not see target - tank factories
P-51 escorts
Note: "PFF Bombing" appears to refer to a British RAF squadron. The Pathfinders were target-marking squadrons in RAF Bomber Command during World War II. They located and marked targets with flares, which a main bomber force could aim at, increasing the accuracy of their bombing.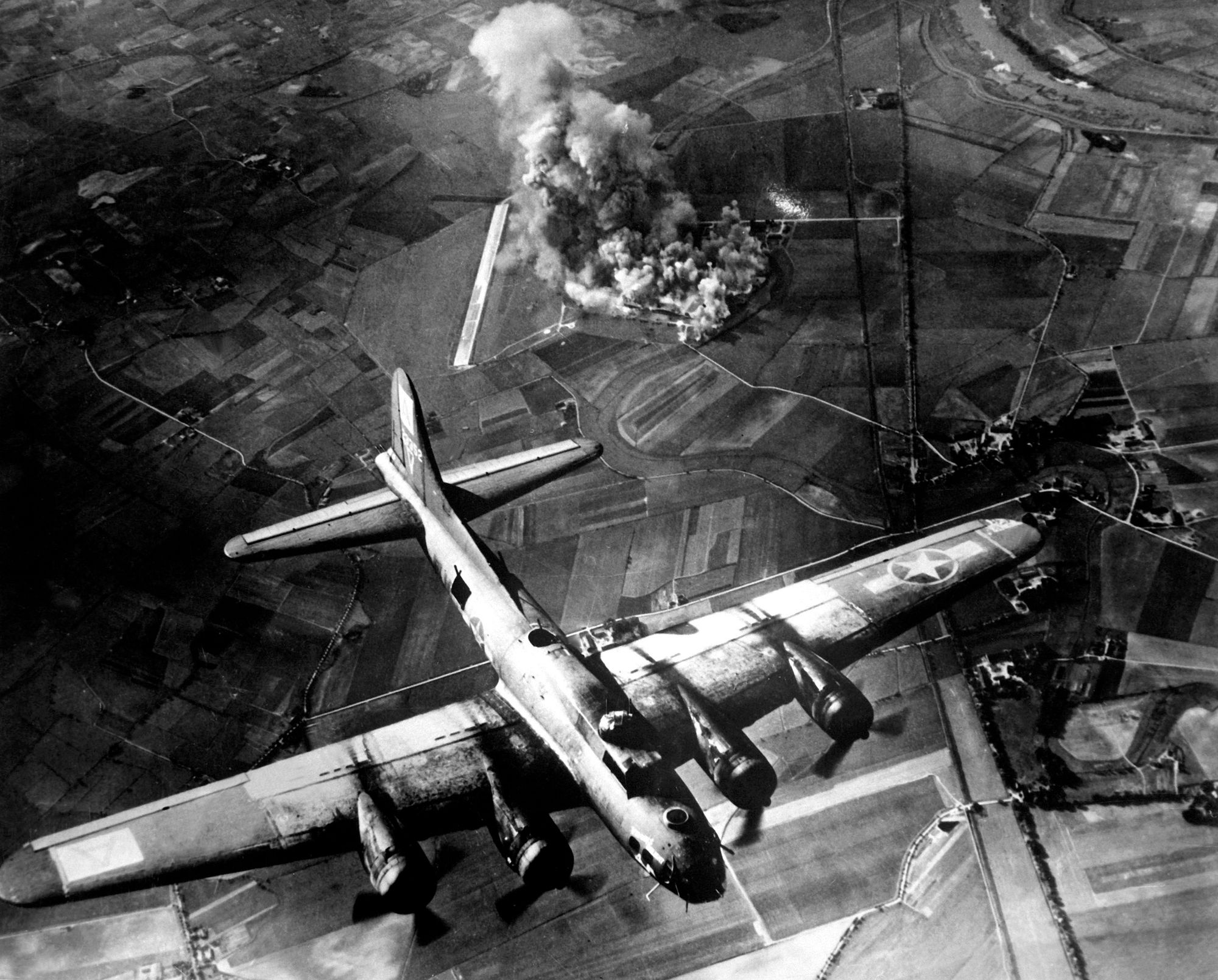 MISSION 11
February 22
Plane 049
Luneburg, Germany
Marshaling yards
Bombing altitude 10,500 feet
Payload 12X GP 500 lbs
Visual, good hits
No flak
P-51 escorts
High squadron, hi element
February 23
Awarded Air Medal
MISSION 12
February 24
Hamburg, Germany
Plane 049
Altitude 26,000 feet
PFF Bombing
Light Flak
Payload 6X GP, 5X M1-17
P-51 escorts
Low squadron, hi element lead
Low on gas
MISSION 13
February 25
Plane 049
Fredrickshafen, Germany
On Lake Constance at Swiss border
Target: Marshaling yards
No flak at target, heavy and accurate at front lines
Lead squadron, hi element lead
P-51 escorts - 7 jetties shot down by escorts
MISSION 14
February 26
Plane 049
Berlin, Germany
Altitude 26,000 feet
Intense flak over target, not accurate
10/10 cloud coverage
Payload 10X GP, 4X M1-17
Temperature: -46F
Strong headwinds, ran low on gas, came back alone.
P-51 escorts
1 crew did not return
MISSION 15
February 28
Plane 049
Hagen, Germany
Edge of Ruhr Valley
Target: marshaling yards
Meager, inaccurate flak
10/10 overcast
Low squadron, hi element lead
P-51 escorts
Payload 16X 300 lb GP, 2X M1-17
Takeoff 11:10
MISSION 16
March 1
Plane 950
Bruchsal, Germany
Altitude 20,000 feet
Target: marshaling yards
No flak, light at front lines
Target visual
Hi element lead
P-51 escorts
Payload 8X 500 lb GP, 4X M1-17
Takeoff 9:40
Landed 17:55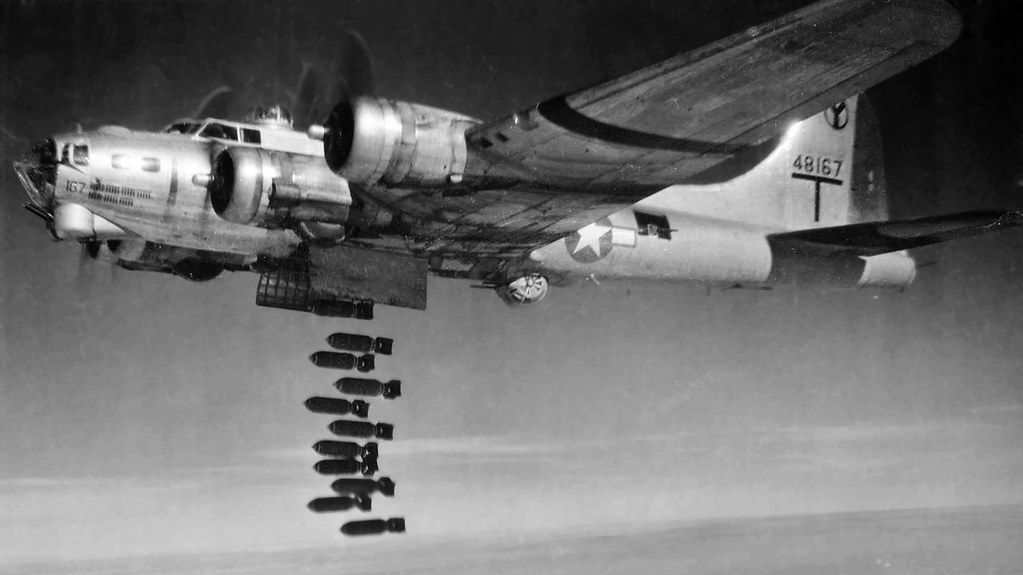 MISSION 17
March 7
Plane 076
Grischow, Germany
Altitude 23,000 feet
Bombed last resort on account of weather
10/10 overcast
Payload 12X 500 lbs
Target: Oil works - Ruhr Valley
Position - hi element lead
Nose gunner, Toggleer
P-51 escorts
Lead Squadron
MISSION 18
March 8
Plane 076
Essen, Germany
Altitude 26,000 feet
10/10 clouds
Target: marshaling yards
Payload 12X 500 lbs, 2X M1-17
Light flak
P-51 escorts
Nose gunner
Hi element lead
MISSION 19
March 9
Plane 262
Kassel, Germany
Payload 34X 100 lbs, 2X M1-17
Visual target
Heavy, intensive flak
Target: Tank, AA guns, Factory
P-51 escorts
MISSION 20
March 10
Plane 262
Schwerte, Germany
Payload 34X 100 lbs, 2x M1-17
Target: railway yards
P-51 escorts
Lead squadron, hi element lead
Nose gunner
MISSION 21
March 12
Plane 262
Bitzdorf, Germany
Target: marshaling yards
10/10 overcast
Payload 34X 100 lbs, 2X M1-17
Salvo - hi element lead, lead squadron
NO ESCORTS
Group's 300th mission
Col. Lyle Lemding
MISSION 22
March 18
Plane 262
Berlin, Germany
Target: marshaling yards
5/10 overcast, see target
Payload 3X 1,000 lbs, 2X M1-17, 2,700 gals
Train release
Intense flak, accurate
5 holes in ship. One through nose, hit me.
Excellent fighter support
Lead squadron, hi element lead.
Note: hit directly by flak and barely mentioned it!
I assume "gals" refers to how much fuel they were given prior to take-off. Apparently the B-17 burned approximately 200 gallons of fuel and 10 gallons of oil per hour. We can see from several of his log entries that many missions exceeded 10 hours of flight time.
I wasn't sure what "train release" meant - apparently there are a variety of ways a bombardier could choose to release the payload.

The station distributor receives electrical impulses through the single-wire from the intervalometer and distributes them to the different bomb stations through as many as 32 different outlet wires. The station distributor can be used with both selective and train bomb release. For selective release, the pointer of the distributor is set by hand to the number on the dial corresponding to the bomb station desired. For train release, the pointer is set to the number of the first bomb to be released, and succeeding bombs will be dropped in numerical order.
MISSION 23
March 19
Plauen, Germany
Target: factories
Haze, overcast.
Very bad weather.
Left field as single ship
Formed south of Paris
Few over Paris, saw Eiffel Tower
Bad weather, contrails all the way in
Fighters hit group next to us
10 hours in the air
Temperature -36F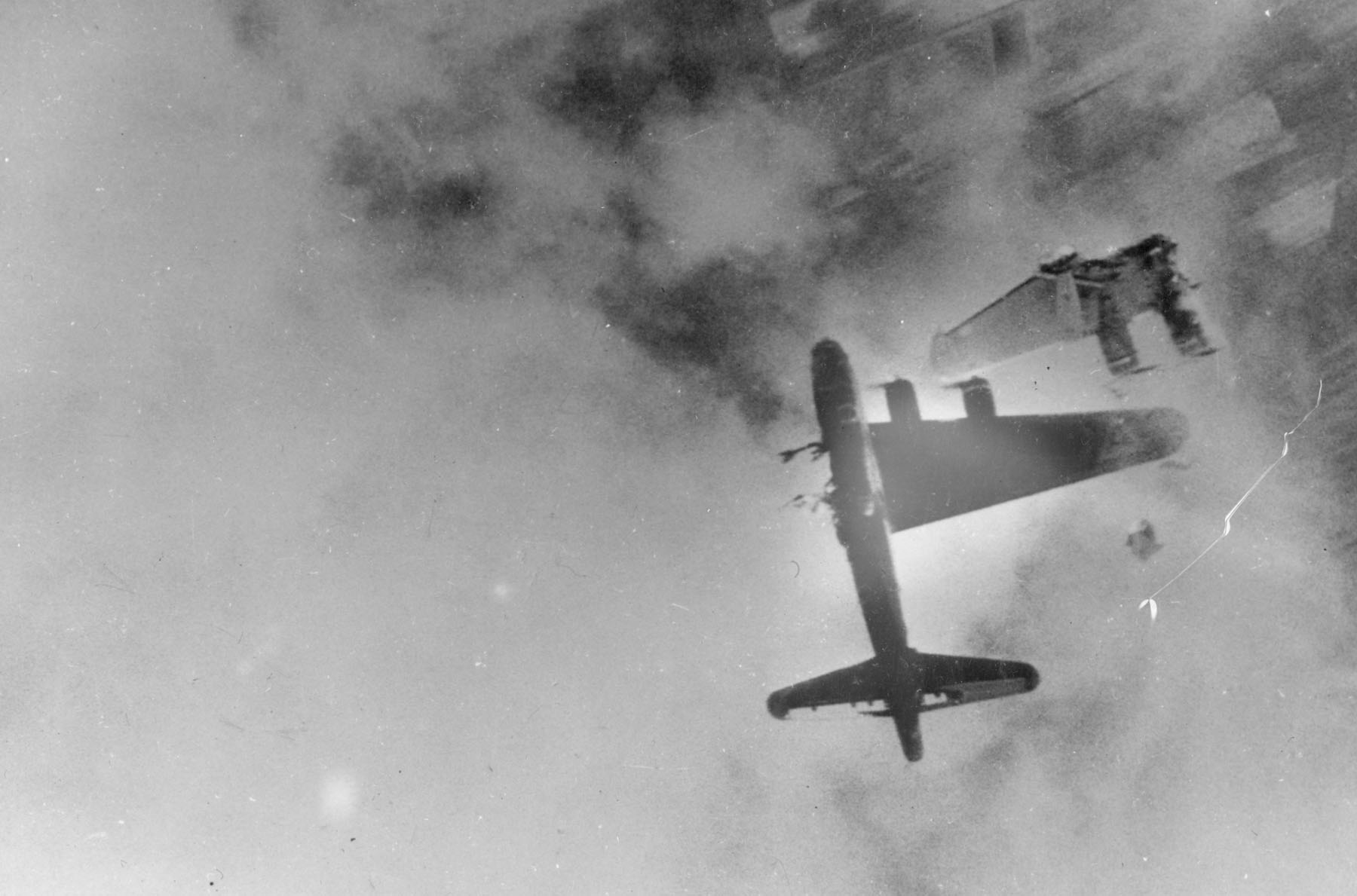 MISSION 24
March 22
Plane 262
Gelsenkirchen, Germany
Target: military installations, barracks north of city.
Flak, moderate to intense and accurate
Got one piece through nose, hit flak suit.
Visual target
Lead squadron, hi element lead
First over target
Payload 34X 100 lbs, 2X M1-17, 2,400 gals
Front line support for Field Marshal Montgomery
Saw smoke screen over front line and RAF going in.
Temperature -32F
Note: directly hit by flak a second time!
MISSION 25
March 23
Plane 262
Gladback, Germany
Target: marshaling yards
Front line support - Ruhr Valley
Payload 34X 100 lbs, 2X M1-17s, 2,400 gals
Visual target
Intense, accurate flak
Squadron was hit hard - saw one plane go down in flames
Carol Dawn engine on fire headed for lines
Plane 905 had 2 engines out
Good results, our plane was lucky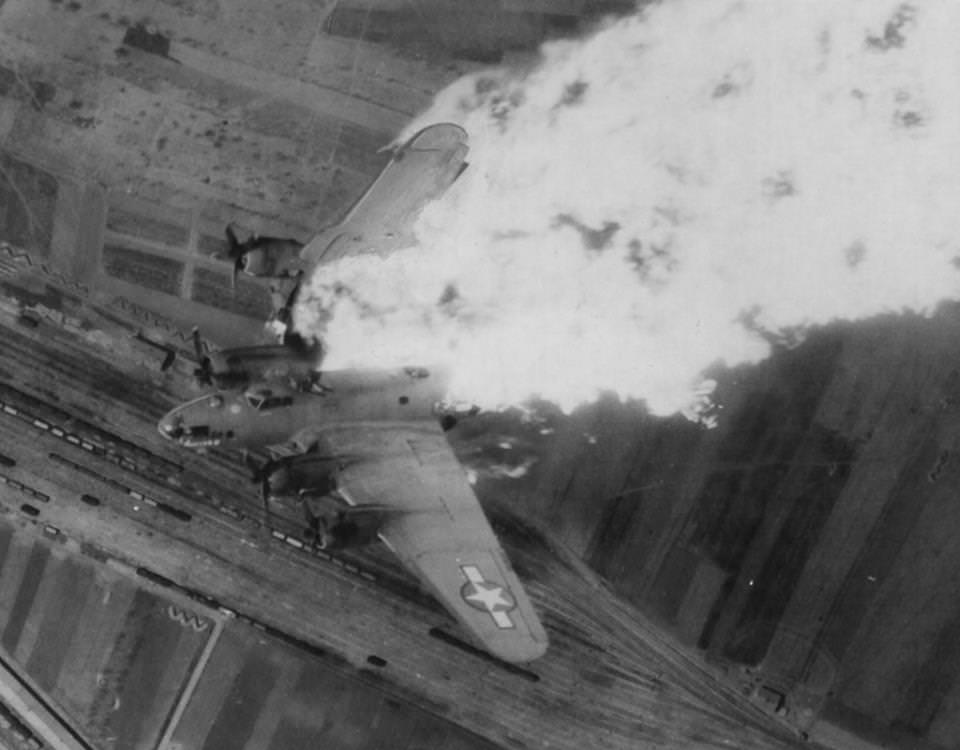 MISSION 26
March 24 - morning mission
Plane 262
Hopstan, Germany
Target: Airdrome
Payload 34X 150 lbs
Support for Montgomery's drive.
Flak intensive and accurate.
Ship in lead went down, one chute.
High squadron ship blew up
Right wing lead wing on fire, blew up
Lt. Schaw crew went down - 4 chutes
Hi element lead, low squadron
Good results.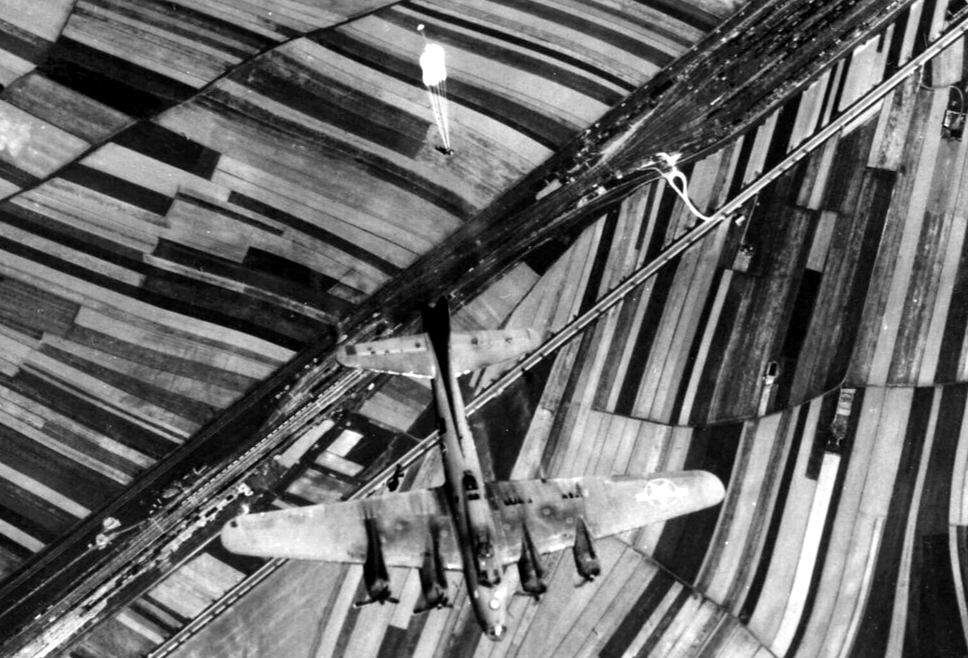 MISSION 27
March 24 - afternoon mission
Plane 262
Twente, Holland
Target: Airdrome
Payload 34X 150 lbs
Flak moderate
Excellent results
One squadron from group went.
High squadron, hi element lead
Take off 1430, got back 1930
MISSION 28
March 25
Turned back on account of bad weather
MISSION 28, take 2
March 26
Plane 262
Plauen, Germany
Target: factories
Payload 10X 500 lbs
No flak
City was burning
Lead squadron hit target
Low squadron, hi element lead
Worst flying weather ever seen.
MISSION 29
March 30
Plane 262
Bremen, Germany
Target: shops, submarine factories
5/10 clouds
Payload 10X 500 lbs
Moderate flak, accurate.
Main span in wing damaged
Major battle damage
Heavy headwinds all the way back
P-51 escorts
Salvo bombs
Note: Bombers were equipped with an intervalometer, which was set by the bombardier to drop the bombs in train at the selected interval. This was set by determining the ground speed of the a/c and the intended distance between bombs. The intervalometer calculated the time gap between bombs released. Alternatively, the bombardier could salvo the bombs, which would actuate the release sequence with the minimum time to complete the sequence. Each bomb shackle required approximately 1/20 of a second to operate, so a plane carrying 10 bombs would be rid of its load in about half a second. Assuming the plane was travelling at a ground speed of 220 mph, a salvo would string 10 bombs over 50 yards.
MISSION 30
April 5
Plane 262
Ingolstadt, Germany
Target: ordnance shops, AA factories
Visual target
Payload: 38X 150 lbs, 2X M1-17
No flak
Altitude 13,400 feet
Excellent results
Fighter field with 25-30 planes east of city
Lead group, low squadron, hi element lead
Extremely bad weather formed in France
Saw Mannheim from 1,200 ft - bridge was finally out
P-51 & P-47 escorts
Mosquitoes screening
B-24 joined group on bomb run
Note: In comparison with its contemporaries, the B-24 was relatively difficult to fly and had poor low-speed performance; it also had a lower ceiling and was less robust than the Boeing B-17 Flying Fortress.
MISSION 31
April 6
Plane 262
Leipzig, Germany
Payload: 6X 1,000 lbs
Target: marshaling yards
10/10 overcast over target
Light, inaccurate flak
Bad weather, had to form in France
Hi element lead, High squadron
Altitude: 25,500 feet
Temperature -40F
10 hours and 10 minutes of flying
Good escorts - P-51s
MISSION 32
April 7
Plane 288 "Lady Anna"
Hitzacker, Germany
Payload 10X 500 lbs - 2,700 gal
Target: marshaling yards
3/10 overcast
No flak at target, light flak on the way in
Delayed 4 hours on account of thick fog.
Could see target results, saw Lüneburg hit.
Group lead, hi element lead
Altitude 15,000 feet
Temperature -15F
8 hours 40 min flying
Got up at 2 AM, back at 6:30 PM
P-51 escorts
MISSION 33
April 10
Plane 288
Oranienburg, Germany
Payload 6X 1,000 lbs
Target: ordnance plant 20 miles north of Berlin
Visual target, no flak
Group lead, hi element lead
Hit by Me-262's in a 15 minute attack
5 jets went down
Lt Howard eight wingman went down.
#1 & #2 engines on fire
Ship in high squadron exploded
Squadron got all jets
Note: The Messerschmitt Me 262 was faster and more heavily armed than any Allied fighter, but for a variety of reasons not many of them were produced. Given that this mission doesn't mention P-51 escorts, I assume that all of the German fighter jets were shot down by gunners on the B-17s.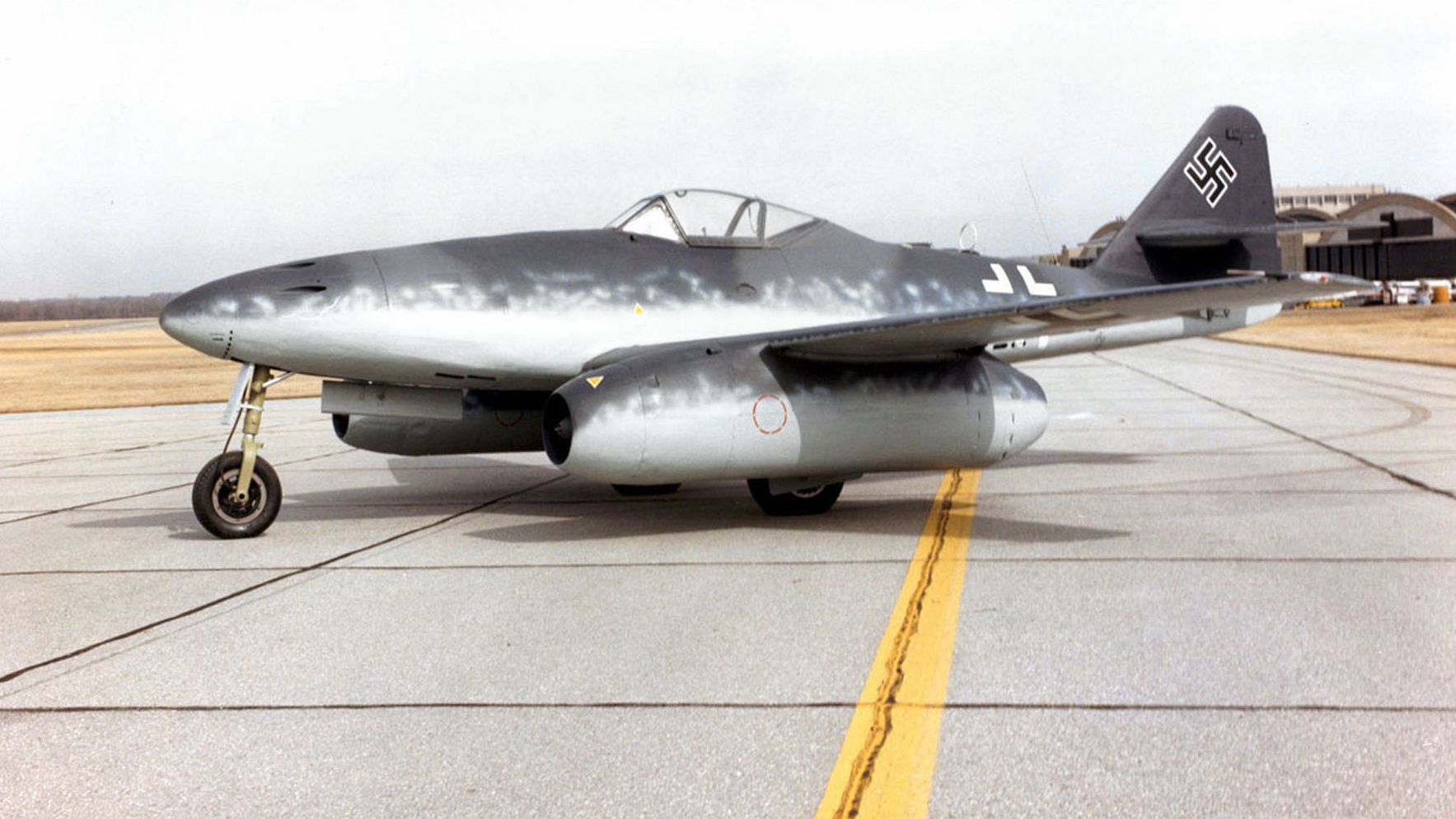 MISSION 34
April 11
Plane 288
Muhldorf, Germany
Beyond Lake Constance
Target: marshaling yards, airdrome
Payload: 10X 500 lbs
No flak
Formed in France, missed our group, joined another. Came back alone.
Hi squadron, right wing low lead
MISSION 35 - LAST ONE
April 14
Royan, France
Target: German AA pocket on southwest French coast so that French could advance.
Payload: 12X 500 lbs
All three divisions went in.
Woke - 2:30
Briefing - 3:30
Staging - 4:30
Taxi - 5:30
Takeoff - 5:50
Landed - 14:20
No flak