Metal Bitcoin Seed Storage Stress Test (Round IV)
Jameson stress tests new metal devices for storing seed phrase backups.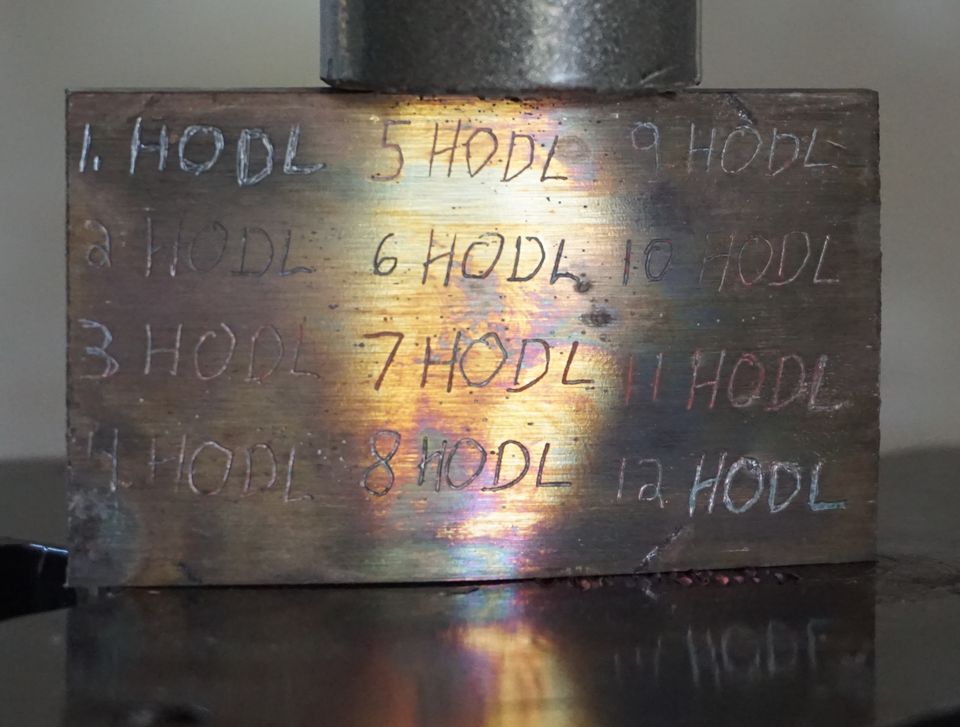 Note: This is a recurring series; here you can read the full results of the entire series here.
The Contenders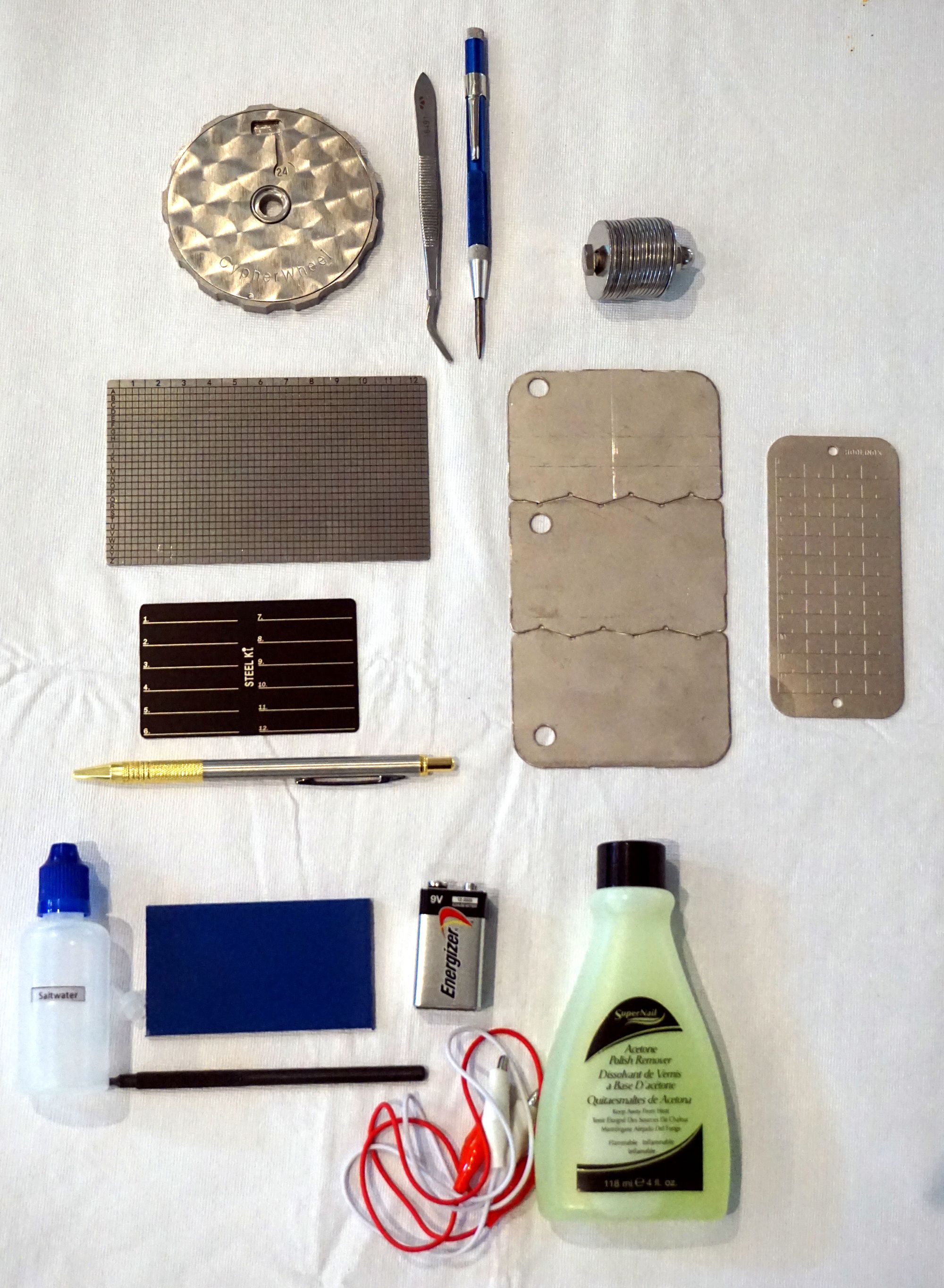 This new product from Coinkite doesn't appear to make any claims about its durability, but it's clearly designed in the same vein as Blockplate, so I expect it to perform well.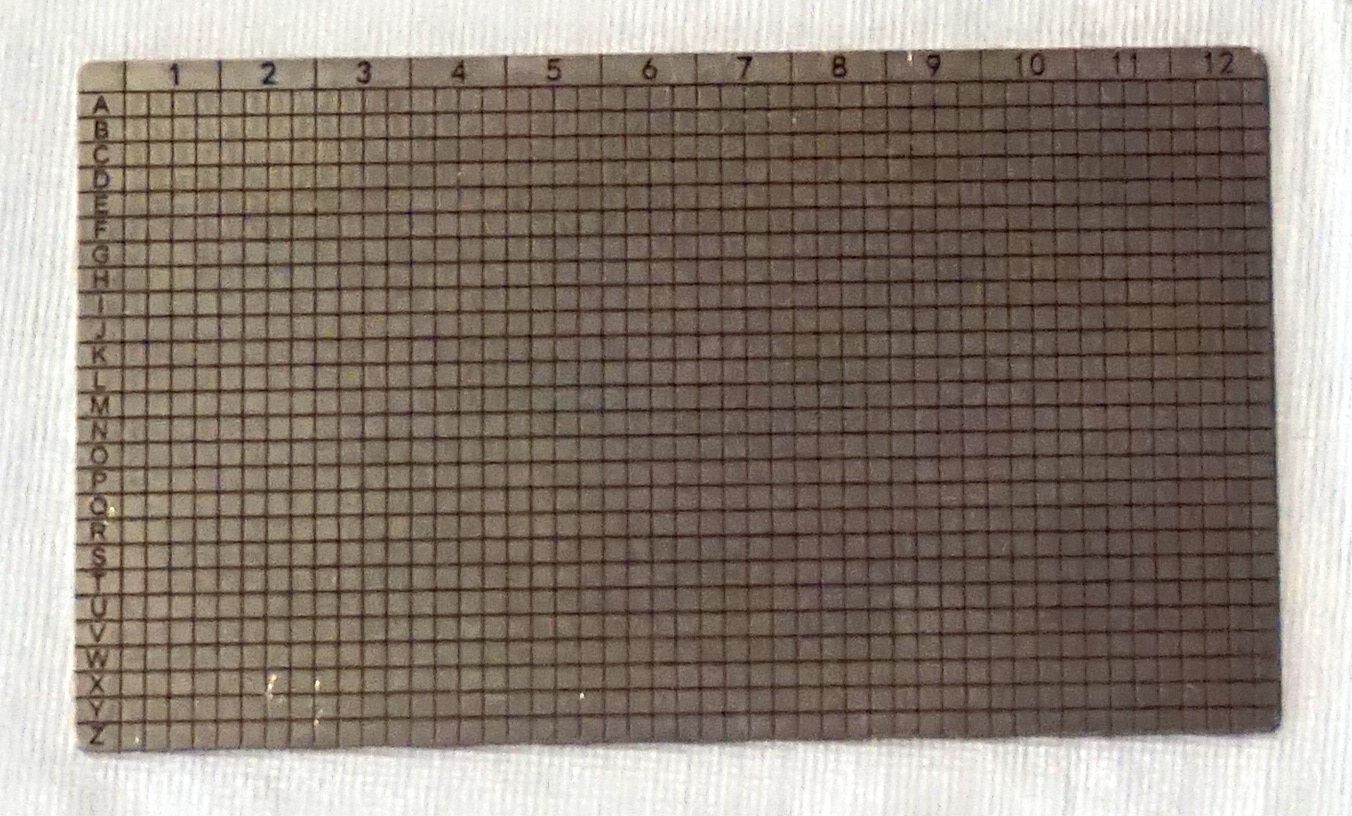 This is really interesting because it's the first of its kind. Cryptoetch makes it dead simple to safely create a steel backup via electrochemical etching. Basically, you remove the protective varnish for the words you want etched and then use salt water and electricity to burn away a few layers of steel.
Cryptoetch claims to be:
Waterproof
Fireproof
Corrosion resistant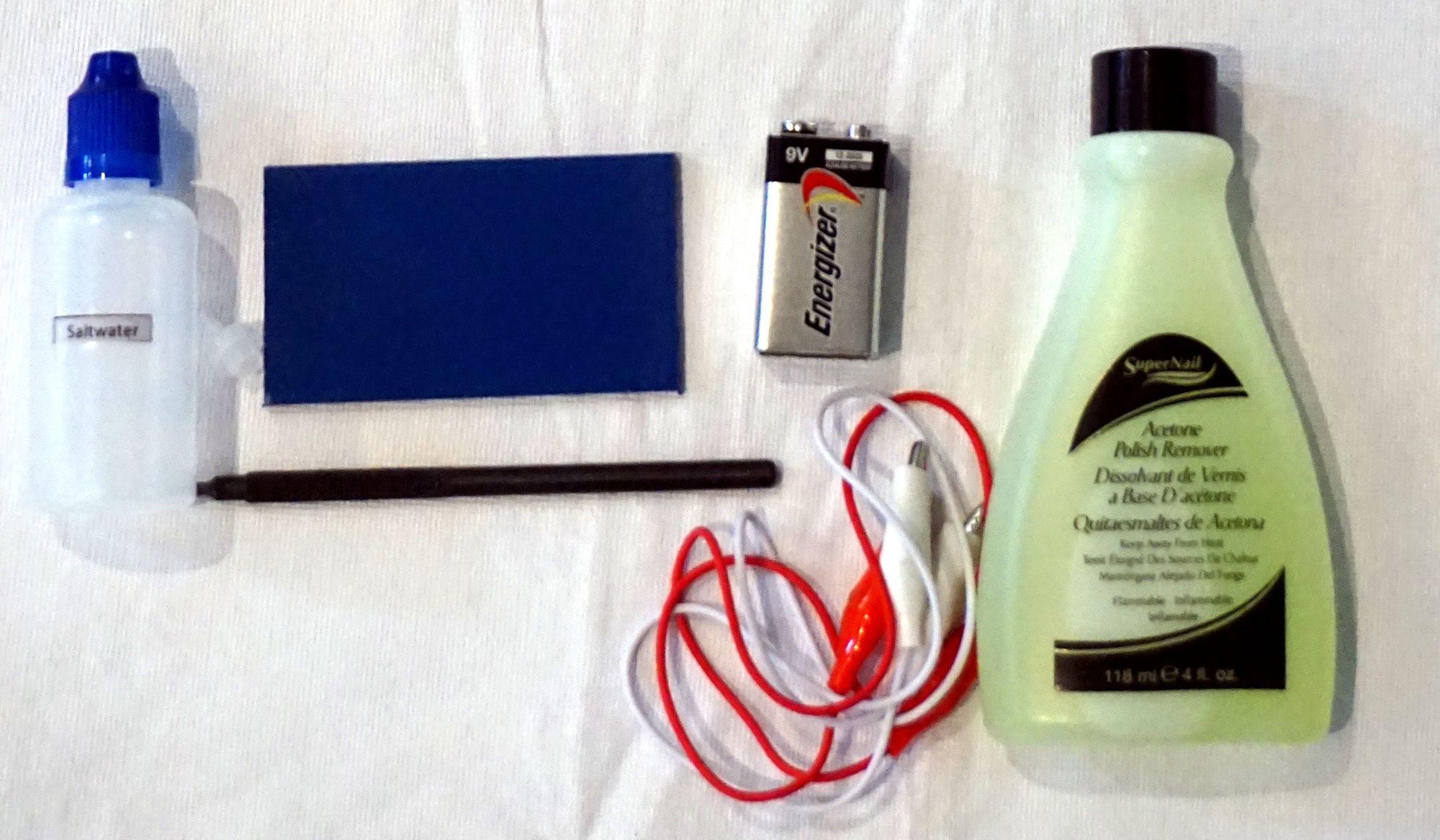 You may recall I tested Cypherwheel last year but it had a few issues. The manufacturer took the results from my test to make some tweaks to the center hub around which the device spins and asked me to retest. Cypherwheel claims to be:
Fireproof up to 2000 degrees
Rust proof
Waterproof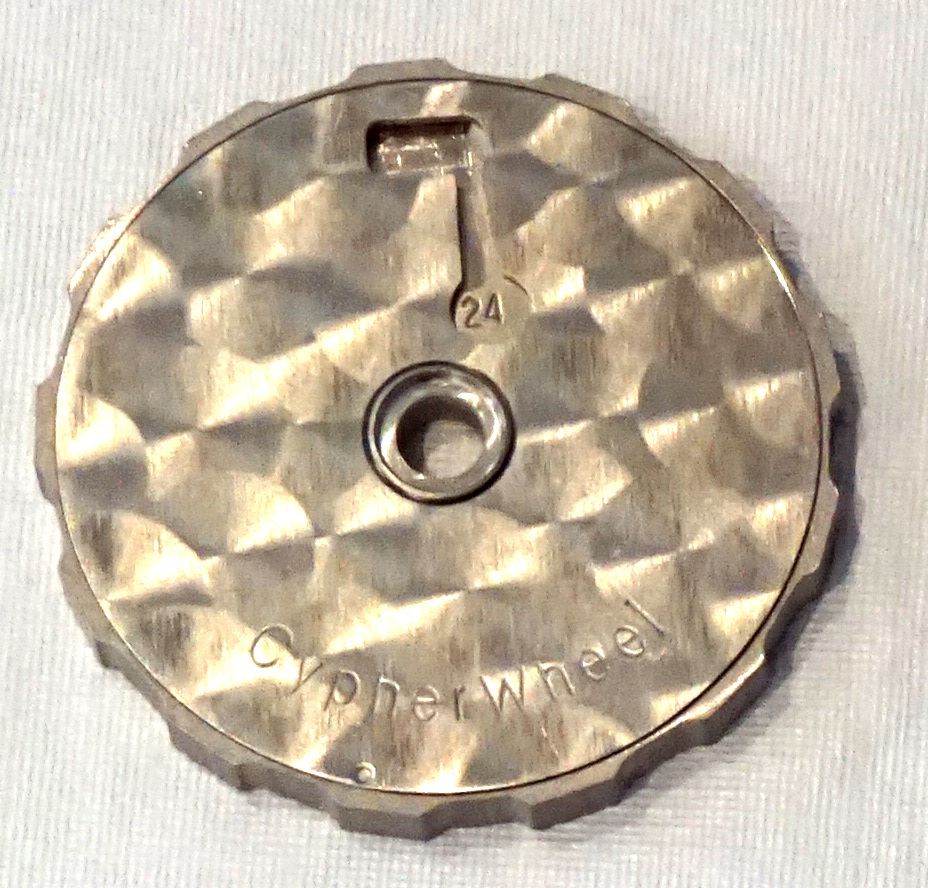 I tested Hodlinox's double plate solution last year; this is their new single plate version. Hodlinox claims to be:
fire proof
water proof
corrosion resistant
unaffected by various acids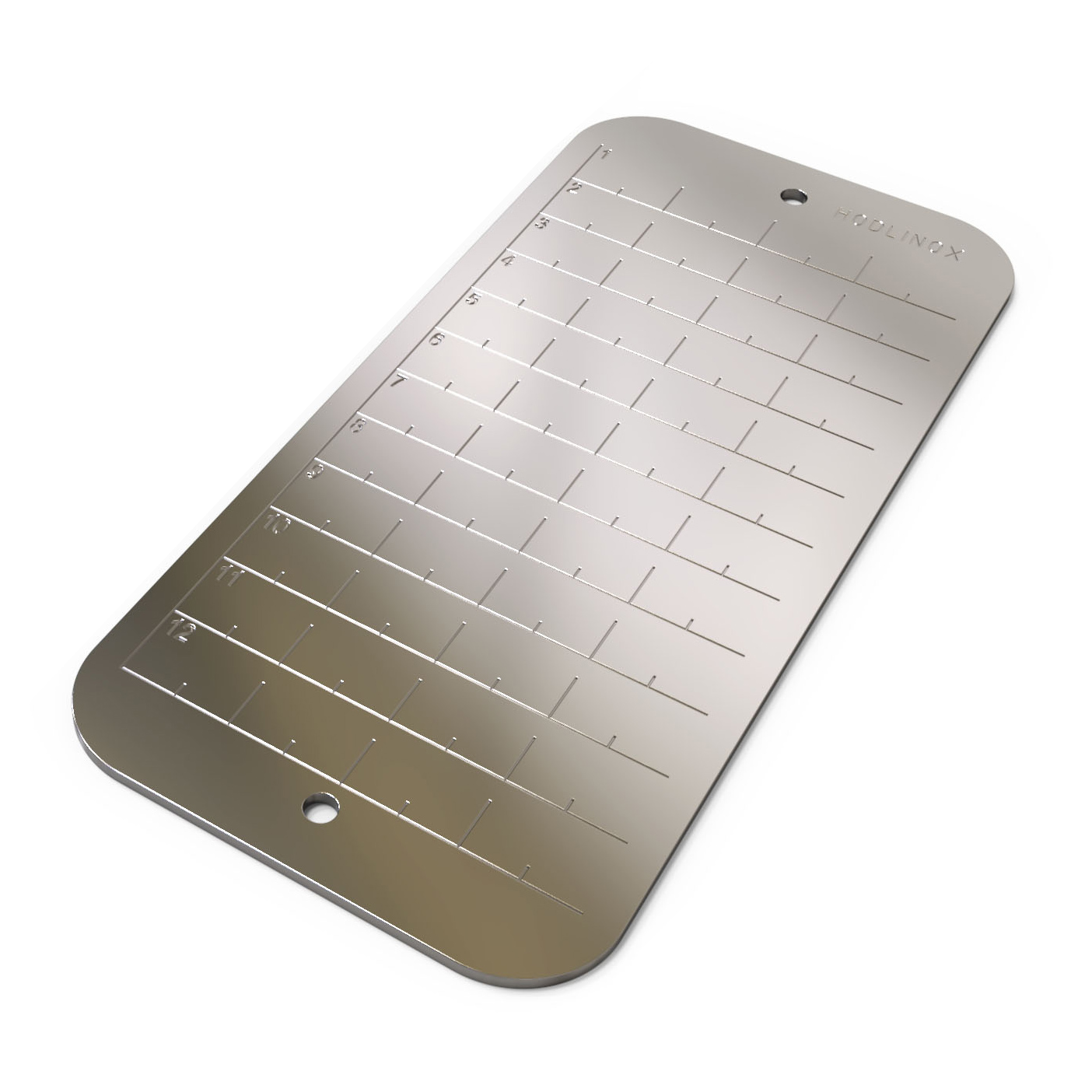 Tjernlund CC3P: An unheard-of device I stumbled across on Amazon. Manufactured in entirely in the USA by Tjernlund, a 80-year-old family run sheet metal manufacturer. The CC3P is basically a few cut pieces of commercial grade 304 Stainless Steel. Tjernlund claims to be:
fireproof
waterproof
drop-proof
corrosion-proof
shock-proof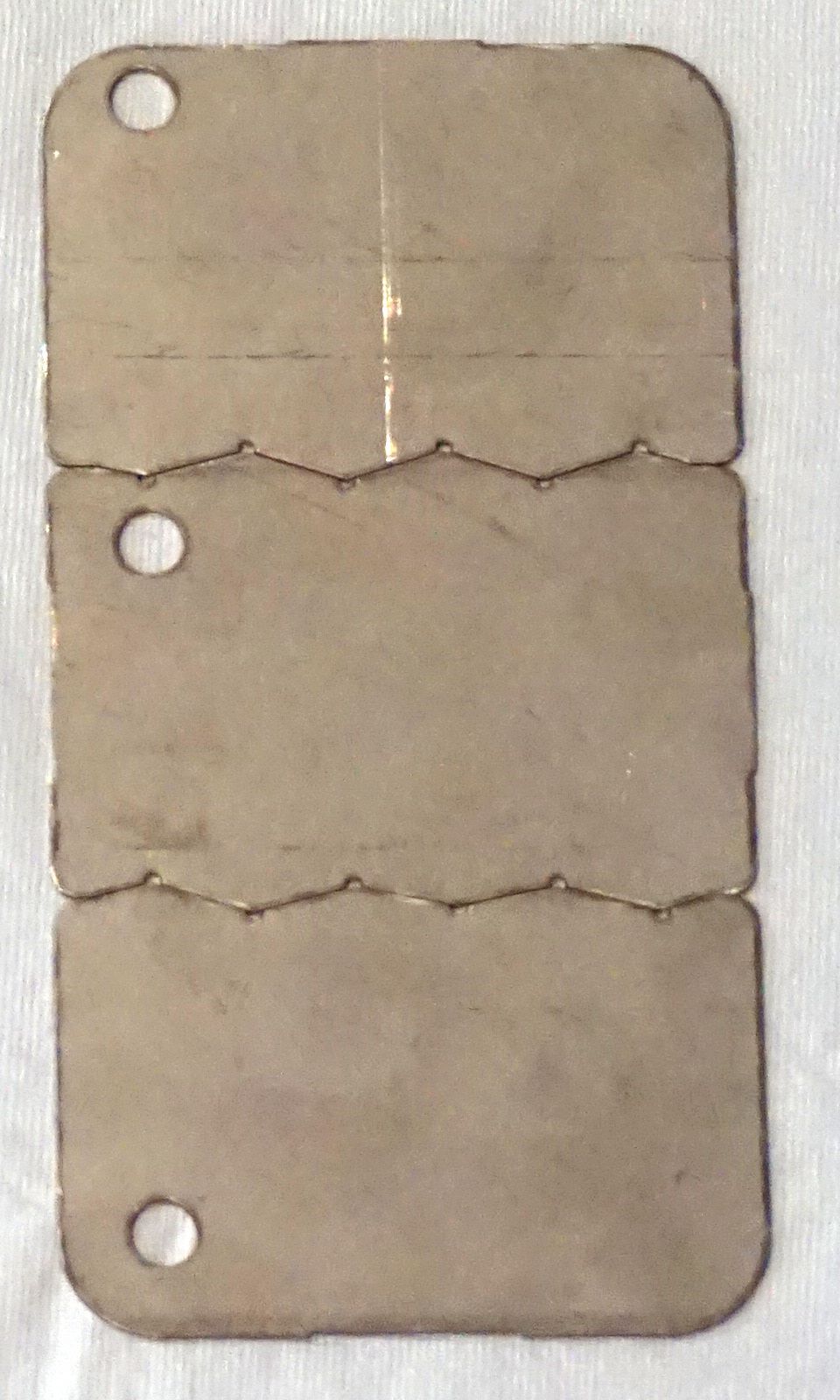 However, it also claims:
with its three piece, single fit design you can now add a new layer of security: geographic security. Simply by locating each 1/3 of your device in different locations you remove the value and motivation of finding a single piece and exponentially increase the difficulty of your information being compromised.
I'd be remiss if I didn't mention that splitting your seed in this manner is actually a bad idea:
Another random find on Amazon; it doesn't appear to make any durability claims.
SAFU Ninja  - This is another unique device I'm testing, because it's not a commercial product. SAFU Ninja is a "recipe" for building an affordable DIY backup with materials from a hardware store. Why would you want to do this? Privacy, for one - if you have commercial products shipped to your house in your name, that information might be leaked in the future...
SAFU Ninja doesn't appear to make any claims about its durability. It's comprised of just 3 simple parts:
M6 or 1/4" hex Stainless Steel bolt 1-2 inch long
M6 or 1/4" Stainless Steel Acorn Cap Nut
1/4" x 1" or M6 Stainless Steel Fender Washers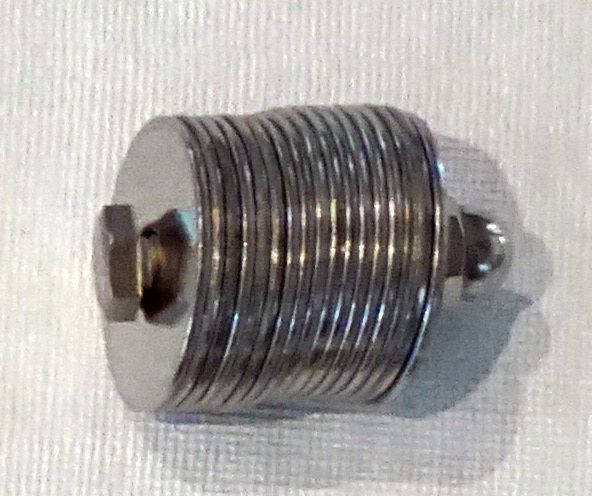 Device Setup / Assembly
As usual, the straight punch method is one I find to be fastest and most user friendly.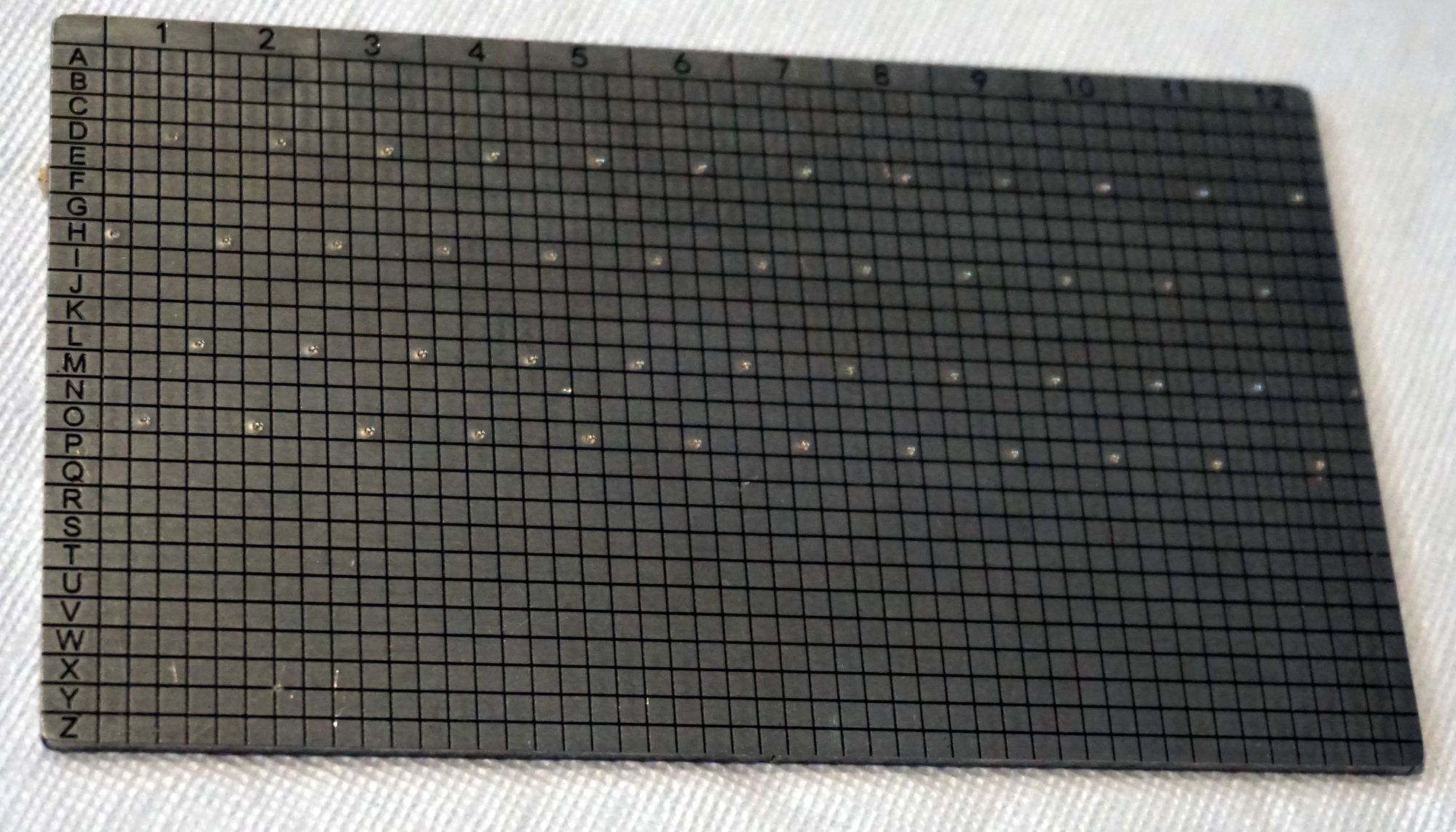 The initialization of the Cryptoetch is a bit more involved than most, but at least it's not physically taxing or straining on your ears. My one gripe about the product is that there are no numbers or lines to guide you when writing on the varnish. If the manufacturer could pre-set those, it would be an improvement in my opinion.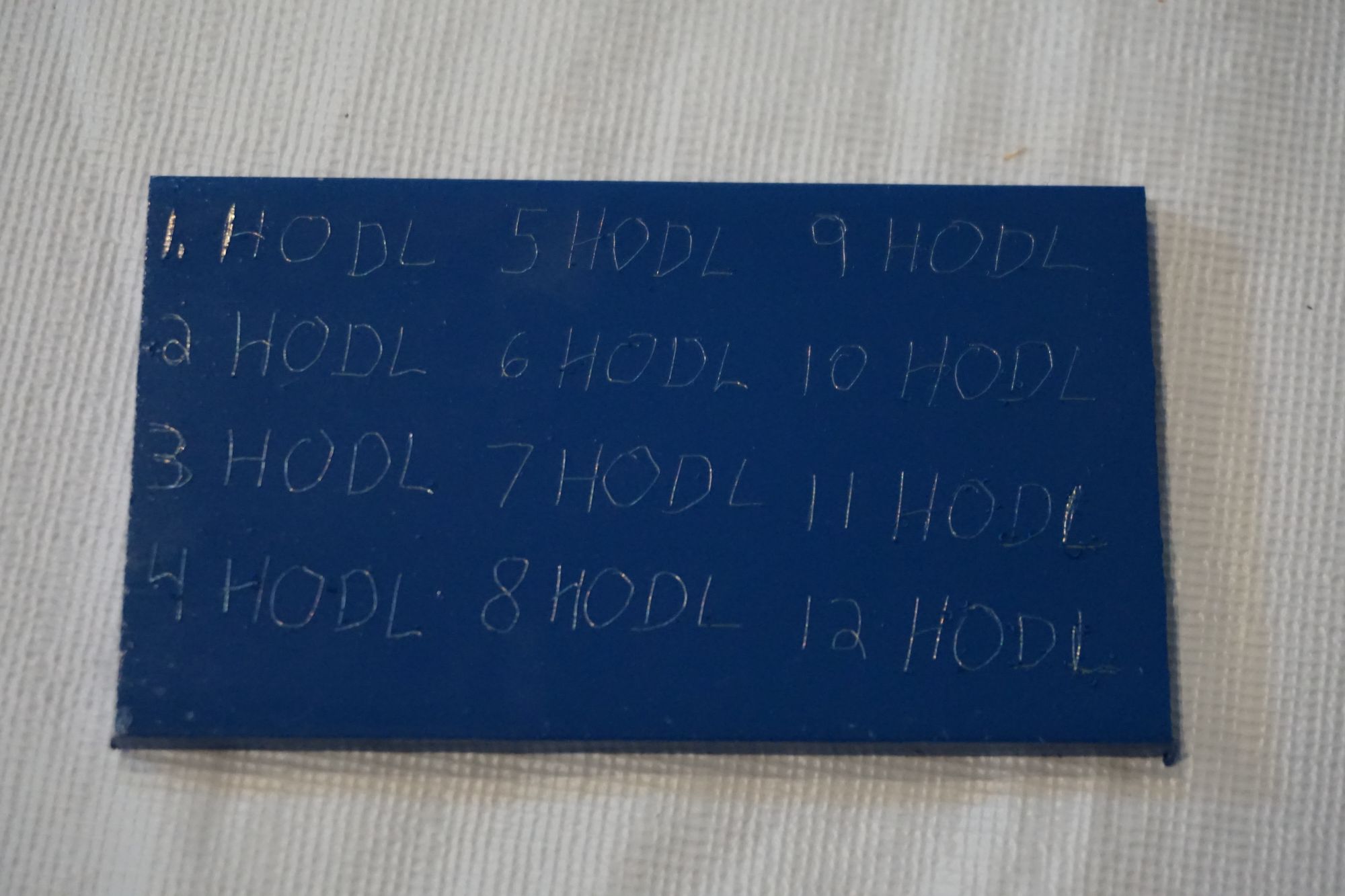 The etching process was straightforward, but requires patience. Personally I'm not so sure about the use of felt strips for distributing the salt solution; it makes it harder to tell if any etching is occurring. I ended up just covering the whole device in salt water and directly placing the metal pen onto it so that I could observe the bubbling. Recommended time results in 1 hour of etching to complete both sides.
I'll also note that by the time I had a single side etched, it completely drained my 9 volt battery. So you'll want to have several available in order to get the job done.
I recall struggling with the setup of my last Cypherwheel due to the low tolerances. This once seemed to be a bit easier to get the tiles into.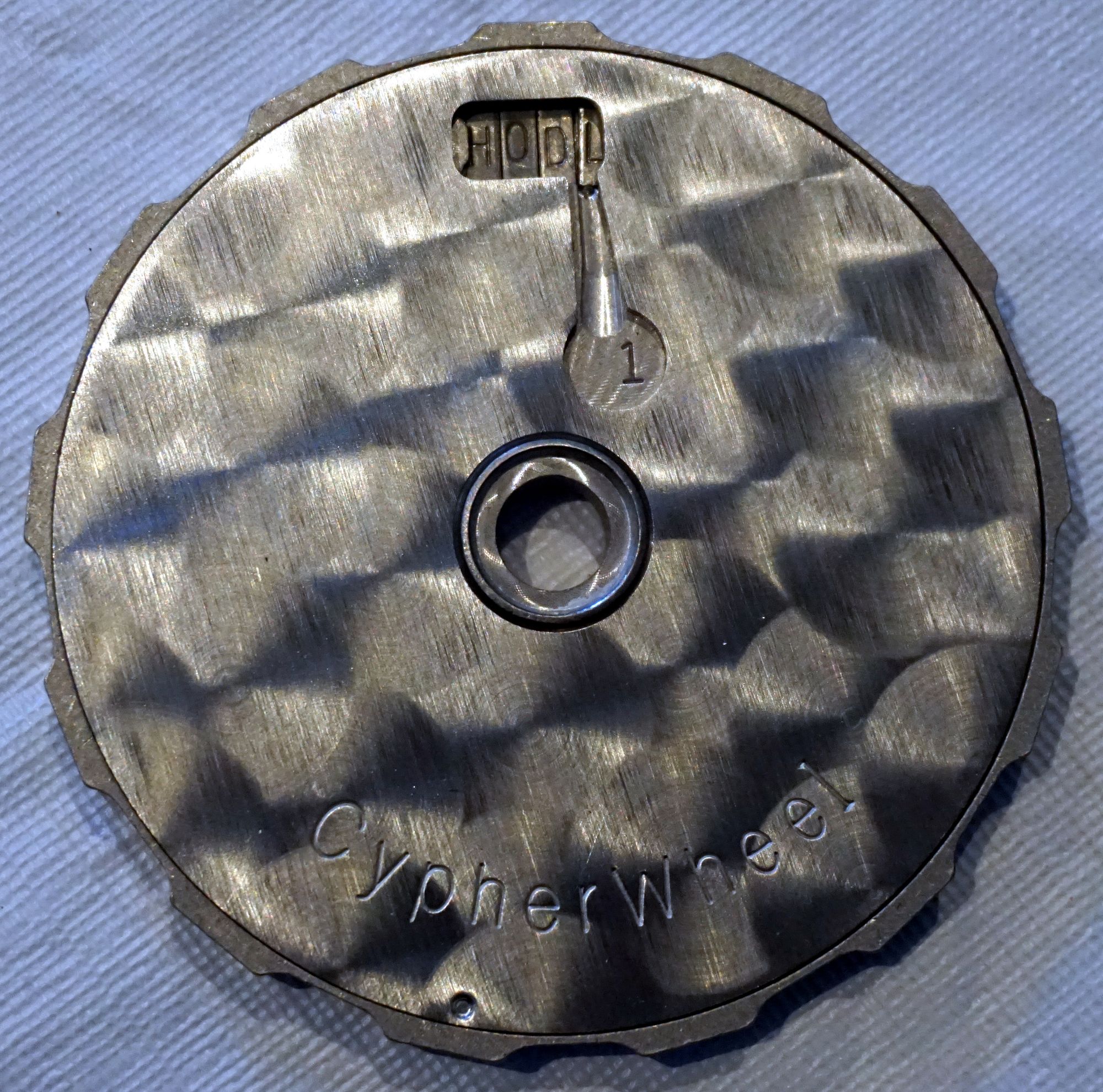 Not much to talk about here; stamping onto the plate was straightforward.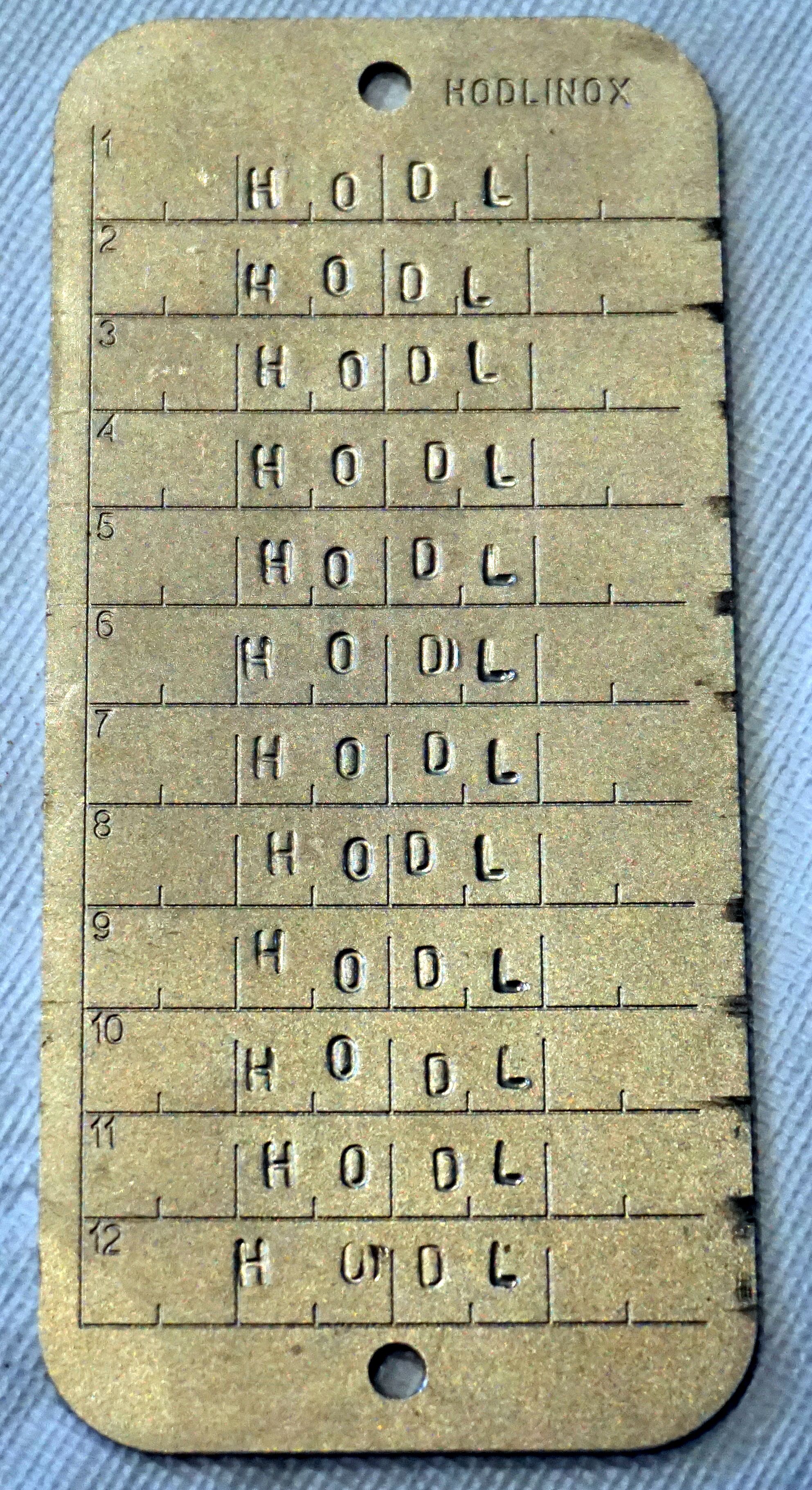 The layout of this plate is a bit odd because it claims to be for 24 words, but two of the sets of 3 lines are right on top of the physical breaks, so you can't really stamp any words there.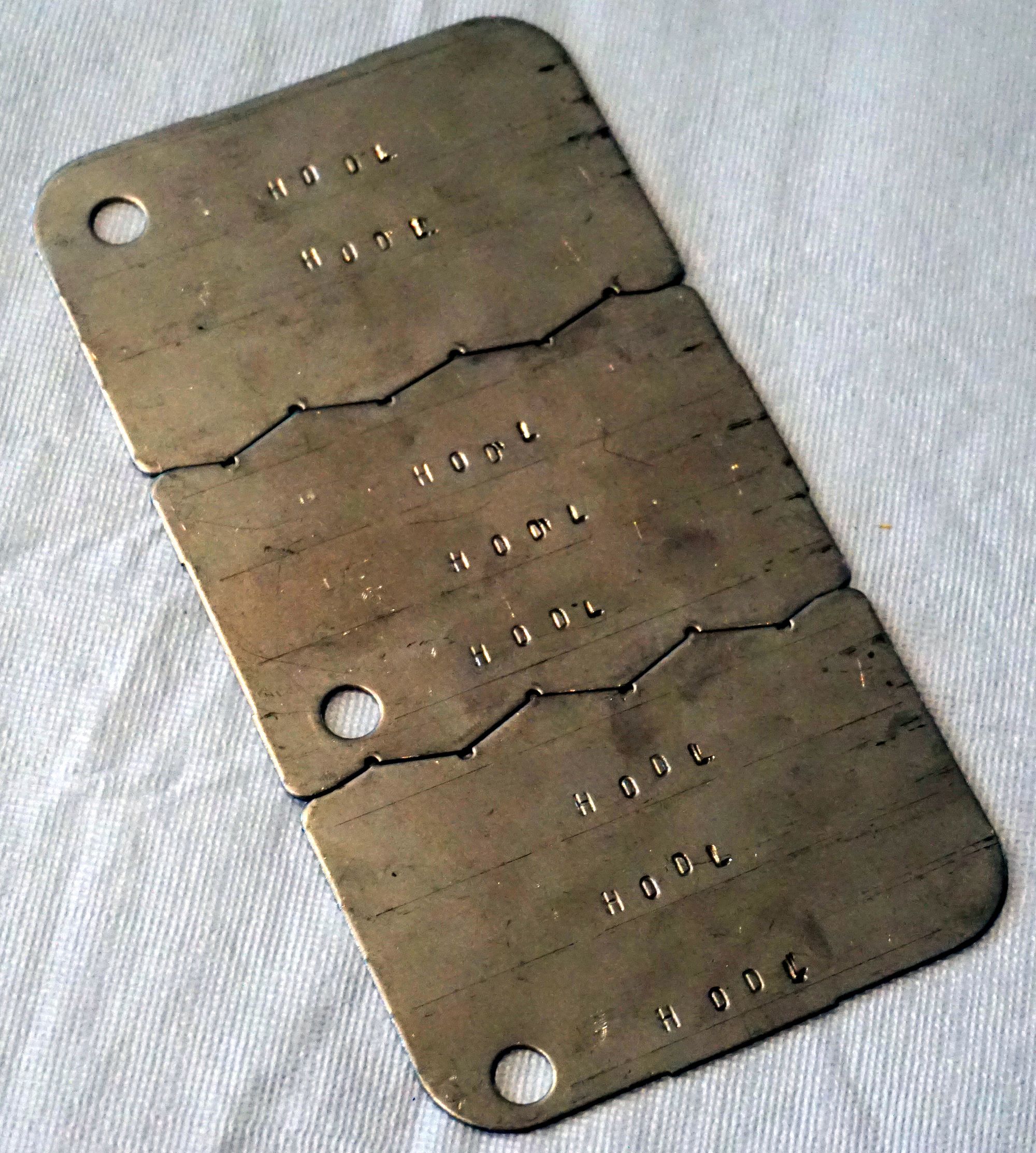 Extremely straightforward; it only takes a few minutes to engrave the words by hand. They're highly legible due to the black varnish that covers the plate.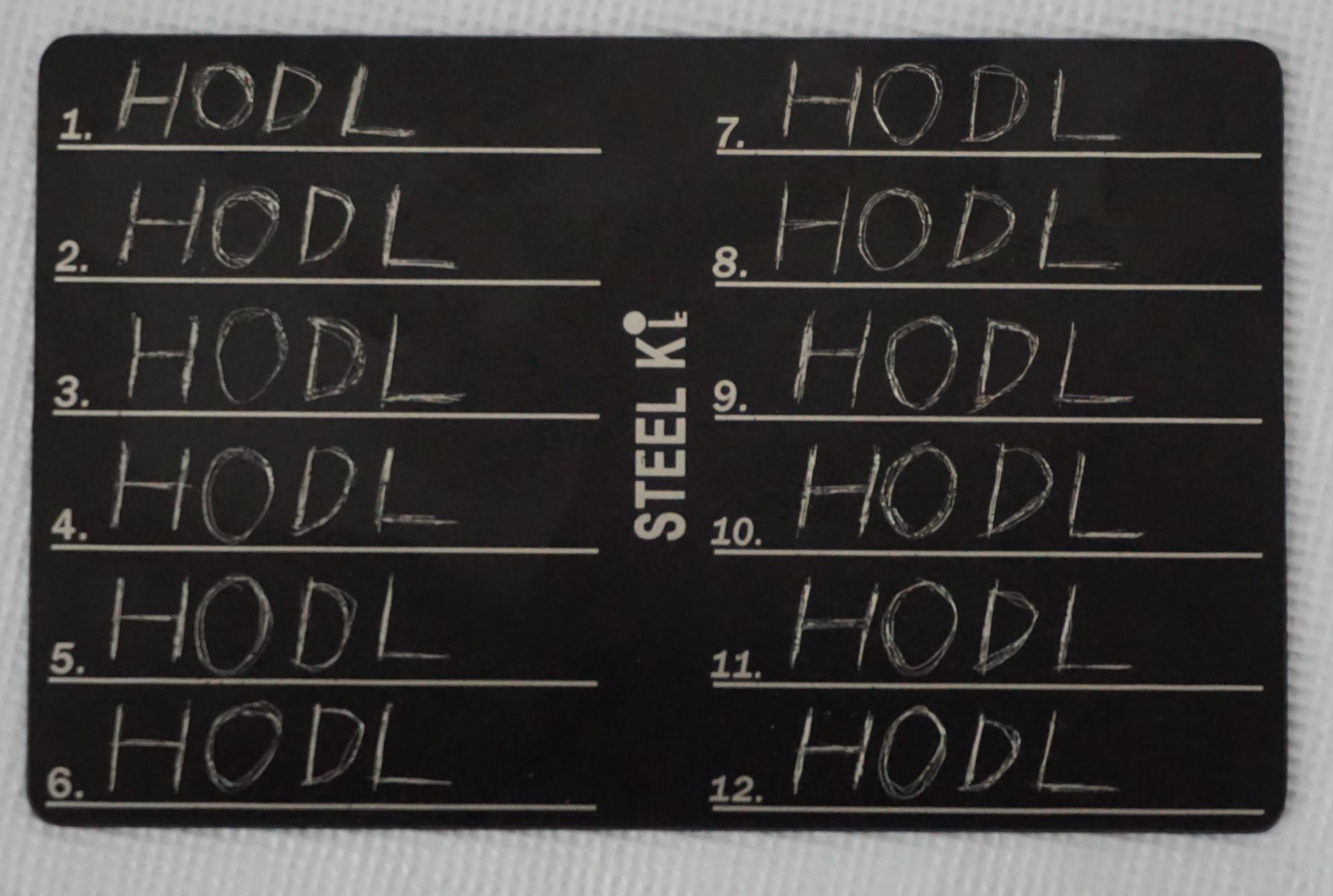 Due to the shape and size of the washers, it's a huge pain to stamp letters into them. Also, as is the case with any device composed of loose tiles that could potentially fall out of order, there's the issue of numbering the tiles. If I were to do this for real, I'd stamp one word per washer side, along with the number of the word.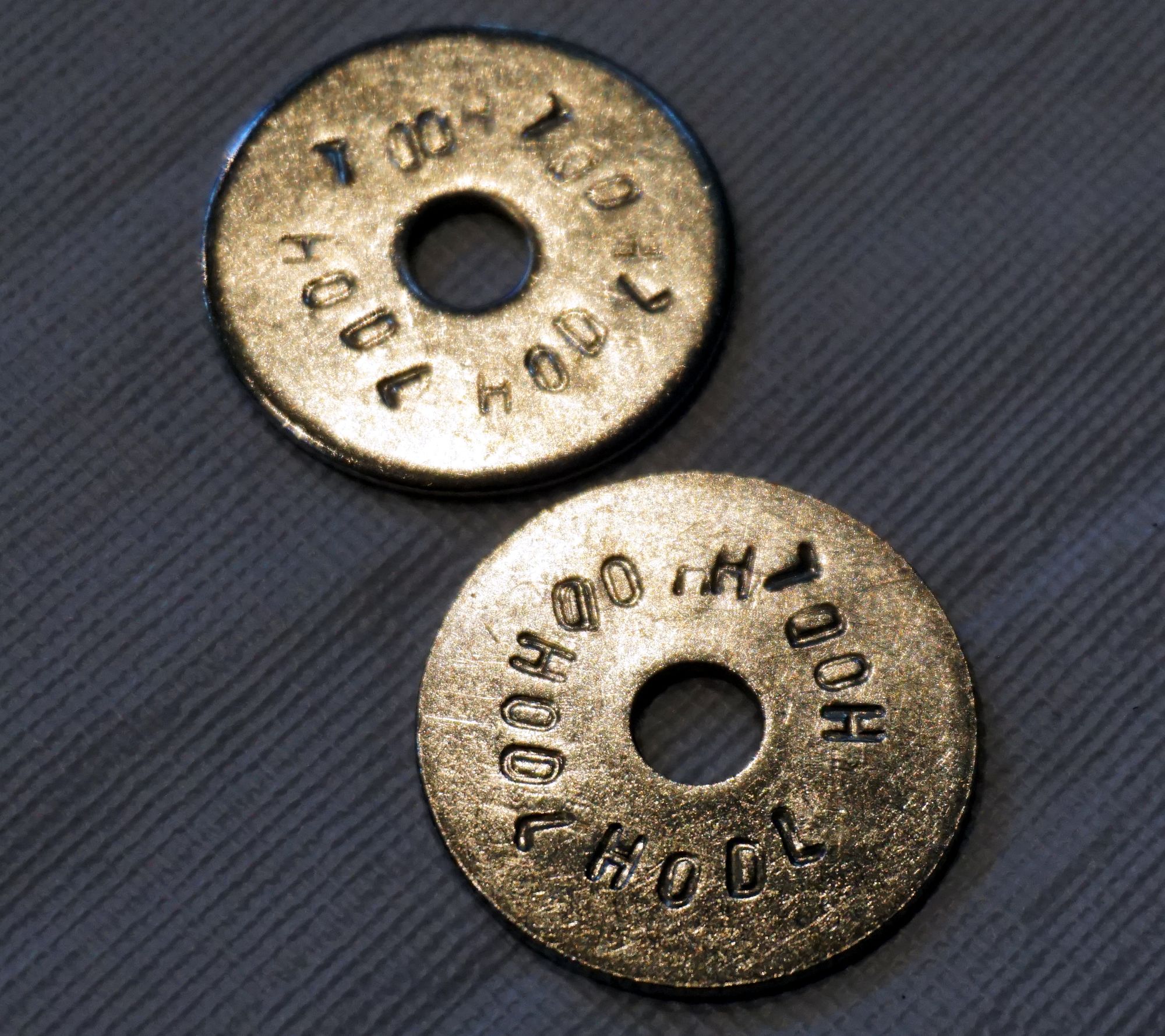 Heat Tests
I applied ~2000°F heat for 10 minutes. Then the device was submerged in a bucket of water to simulate a firefighter putting out a structure fire.
As expected, only some discoloration - no data loss.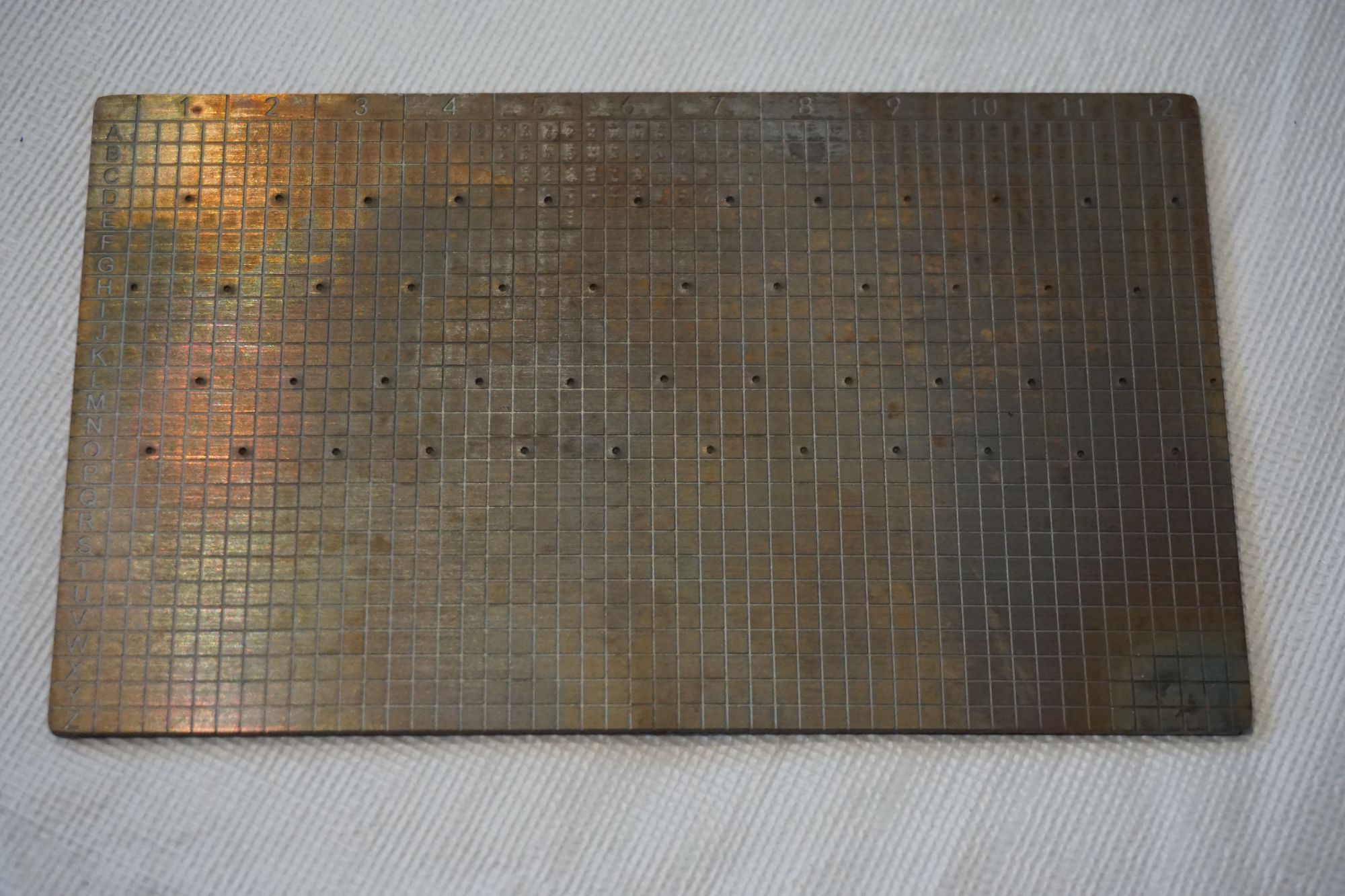 Plenty of discoloration, but no data loss - we can see that the words are etched quite deeply.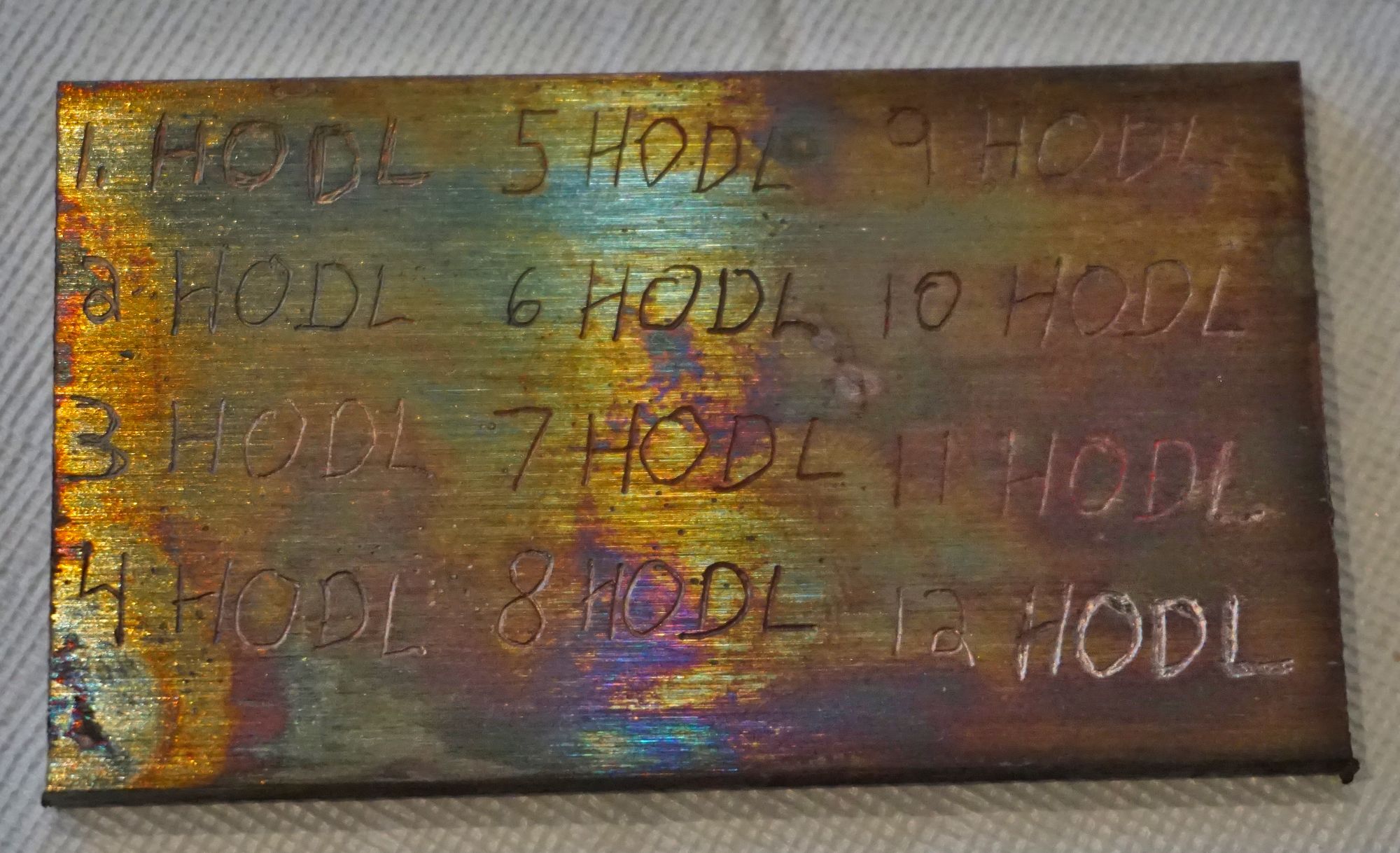 I noticed it retains FAR more heat than any of the other devices, perhaps due to sheer metal mass and surface area. Most devices finished cooling off in the water after 5 or 10 seconds. The Cypherwheel took over 30 seconds. I do believe that the extreme cooling resulted in most of the deformation that occurred - I didn't notice any while it was still hot.
You may recall that my heat test of the previous version caused it to deform enough that I couldn't rotate the wheel. Unlike last time, I was still able to rotate the wheel by hand with this iteration. It took a little more effort than when it was in pristine condition, but it's clearly still usable.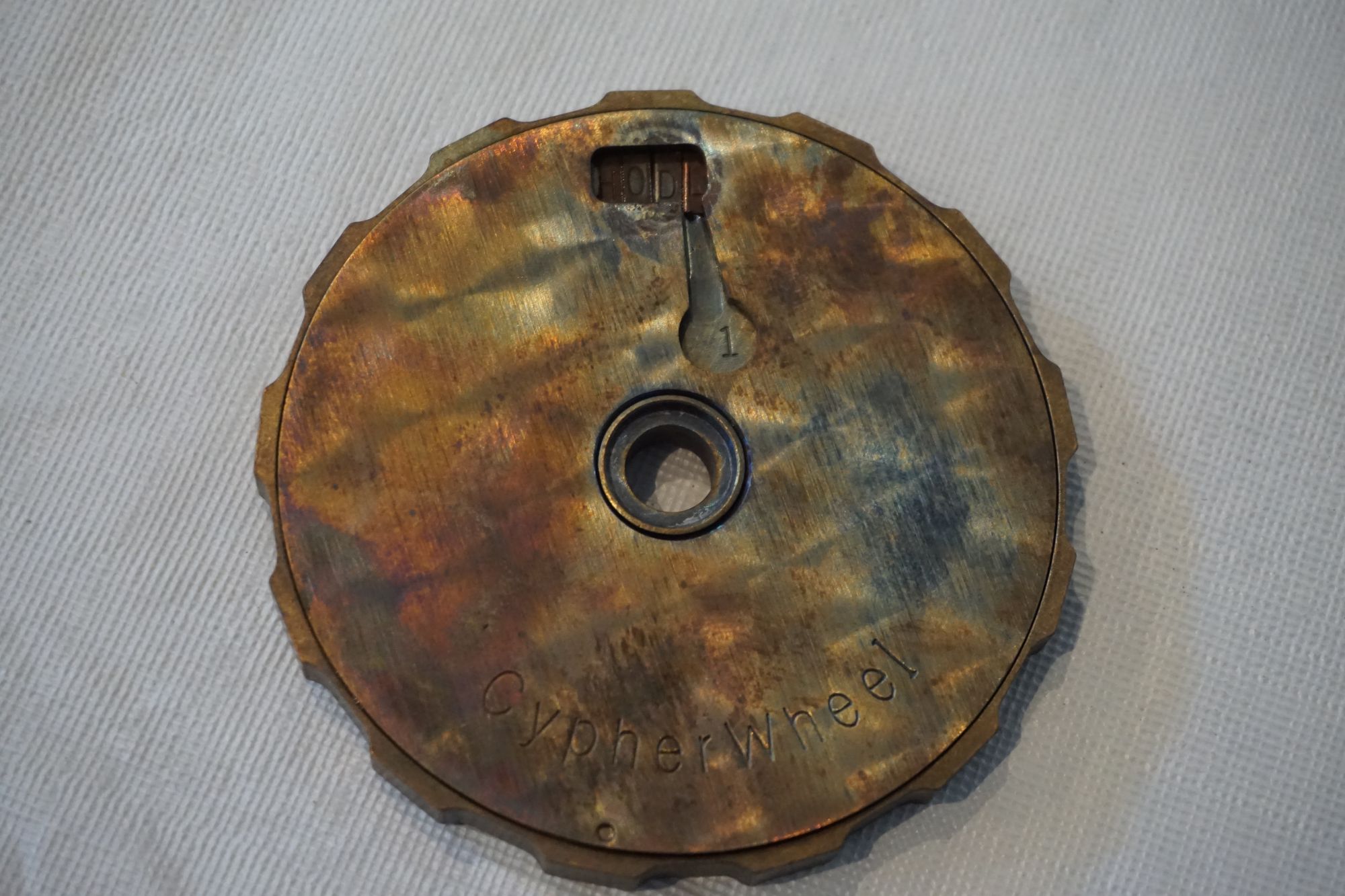 Discoloration but no loss of legibility.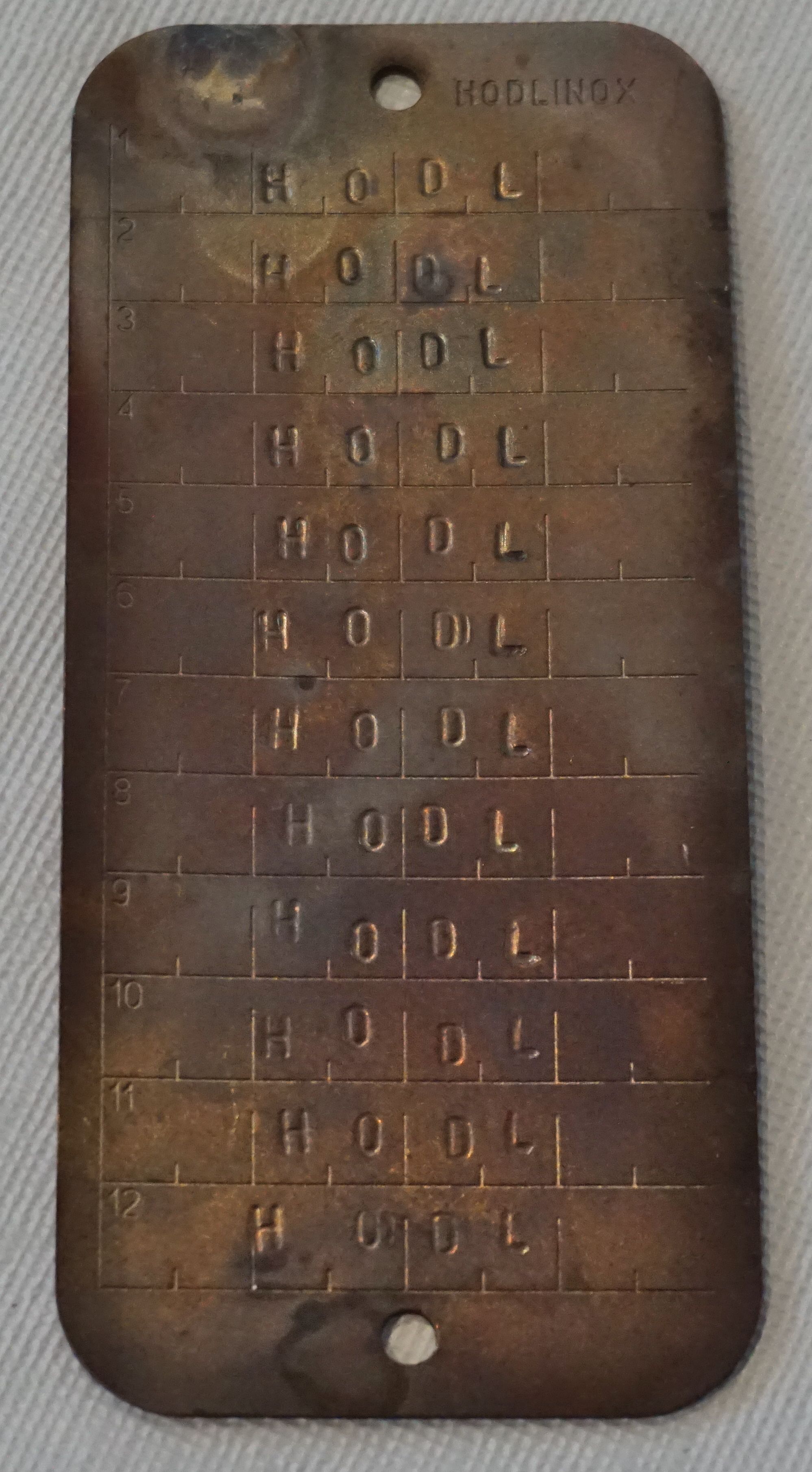 Lots of discoloration but no data loss.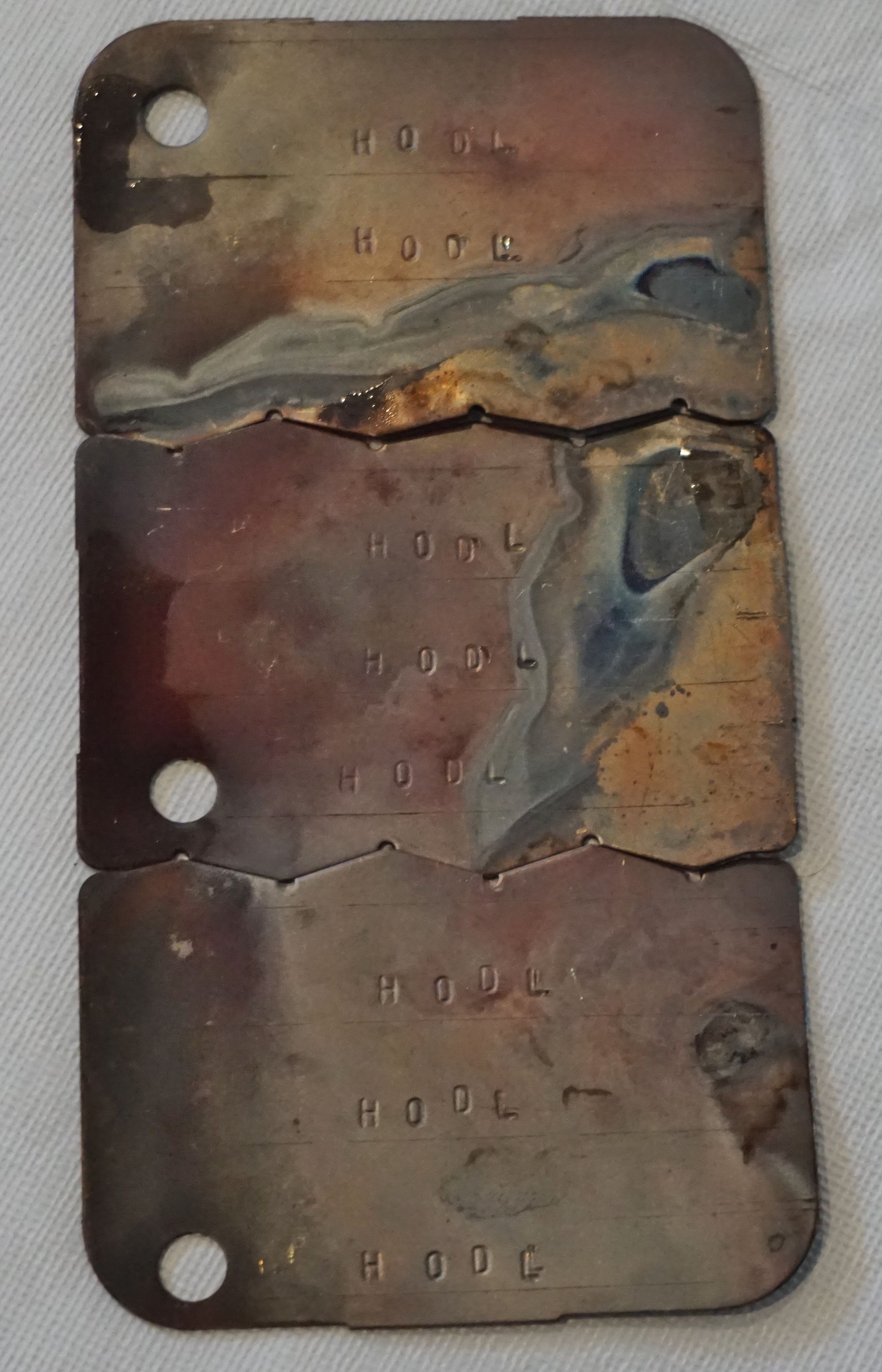 The black coating didn't even last 30 seconds under the flame; don't rely upon it for high visibility after a fire. It's hard to see from the photos but the etching is still slightly visible at the right angles - no data loss, but not great. I'm less confident in this hand etching than in the electrochemical etching or stamping methods.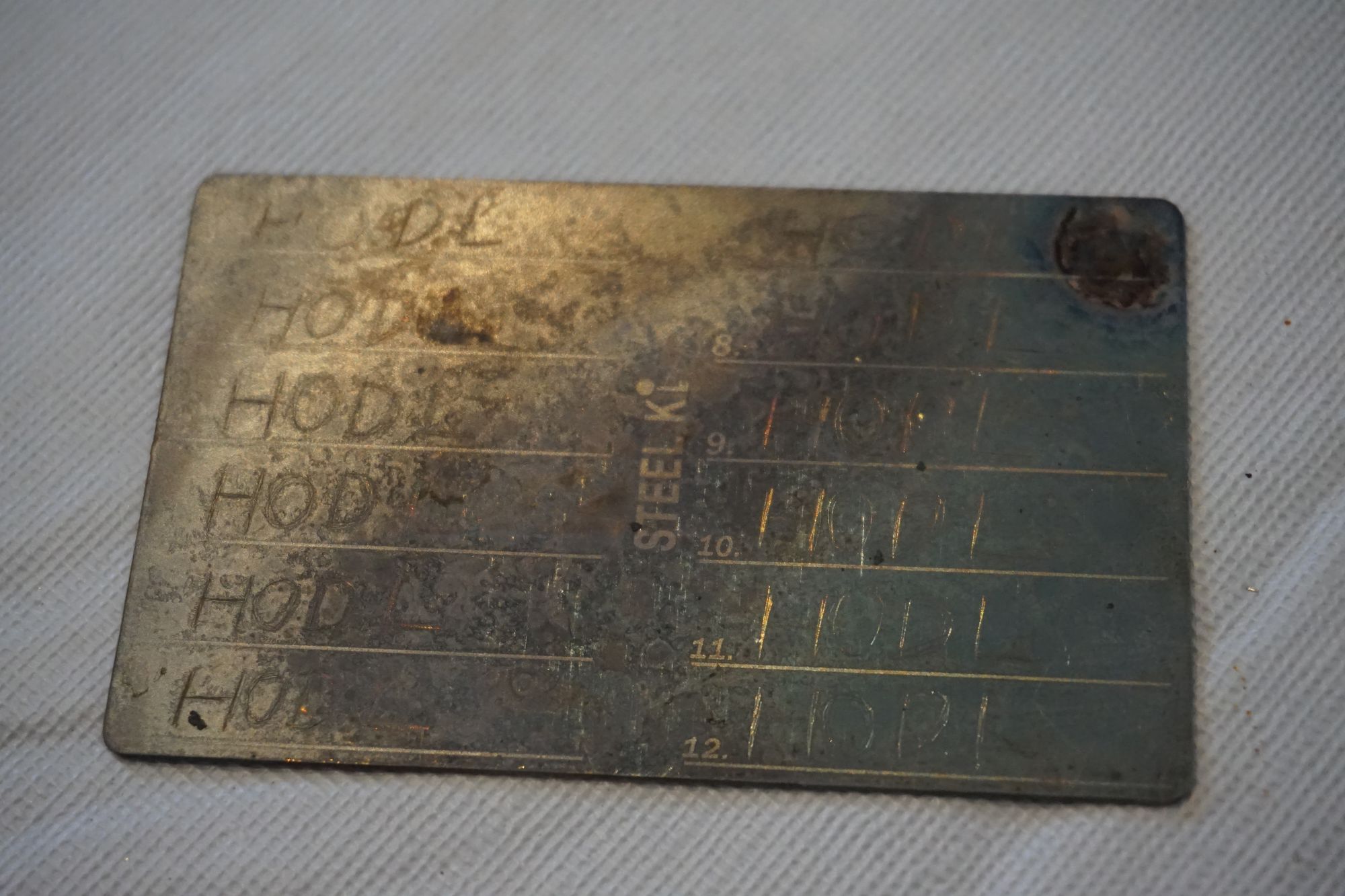 No data loss.

Corrosion Tests
Normally I submerge the devices in muriatic acid for 12 hours and them pull them out once the bubbling stops. However, this round of corrosion testing was quite boring - none of the devices contained any metal that reacted strongly with the acid.
Unaffected by the acid.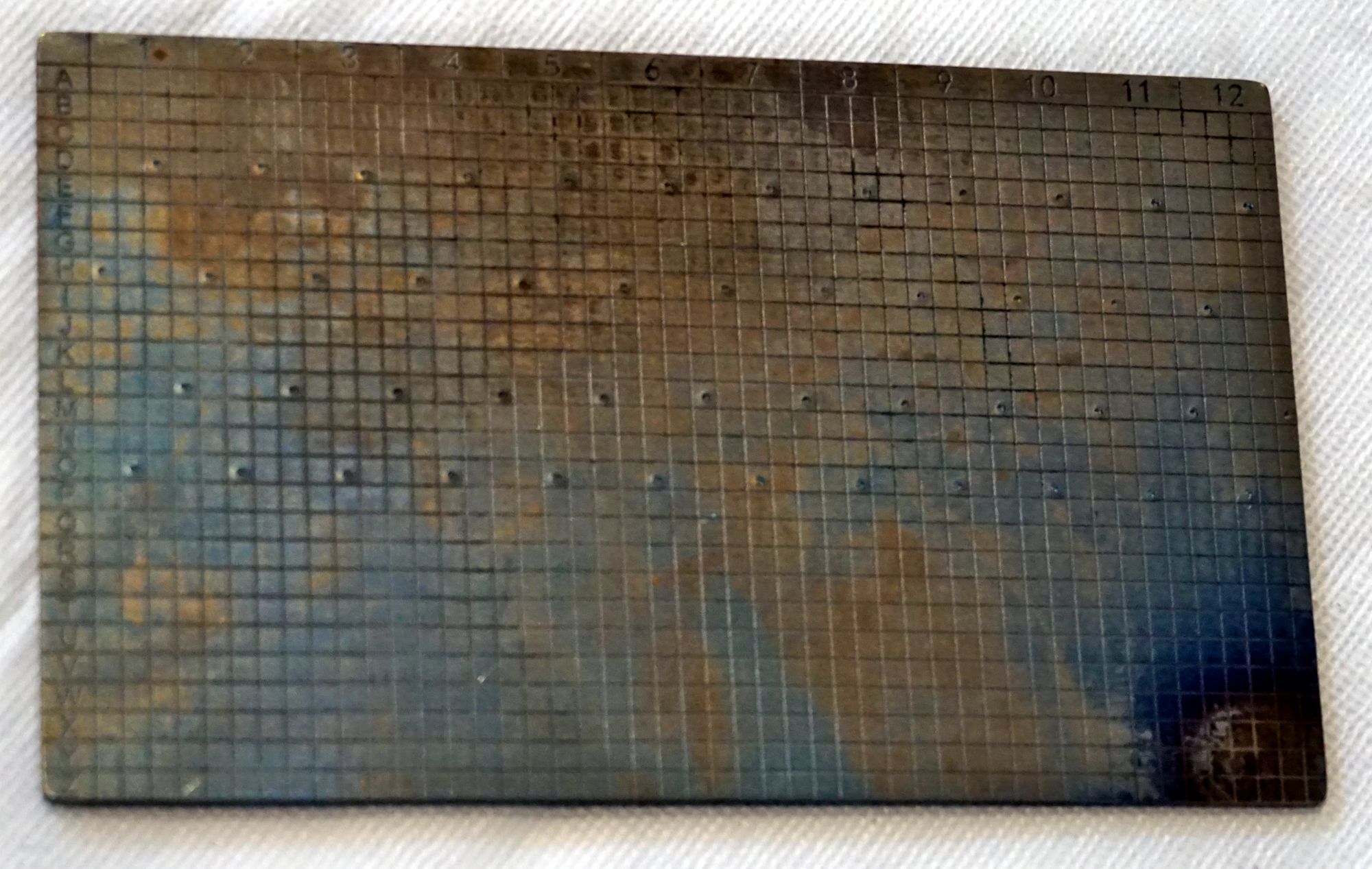 Oddly enough, it seems that if anything the words might be MORE legible now.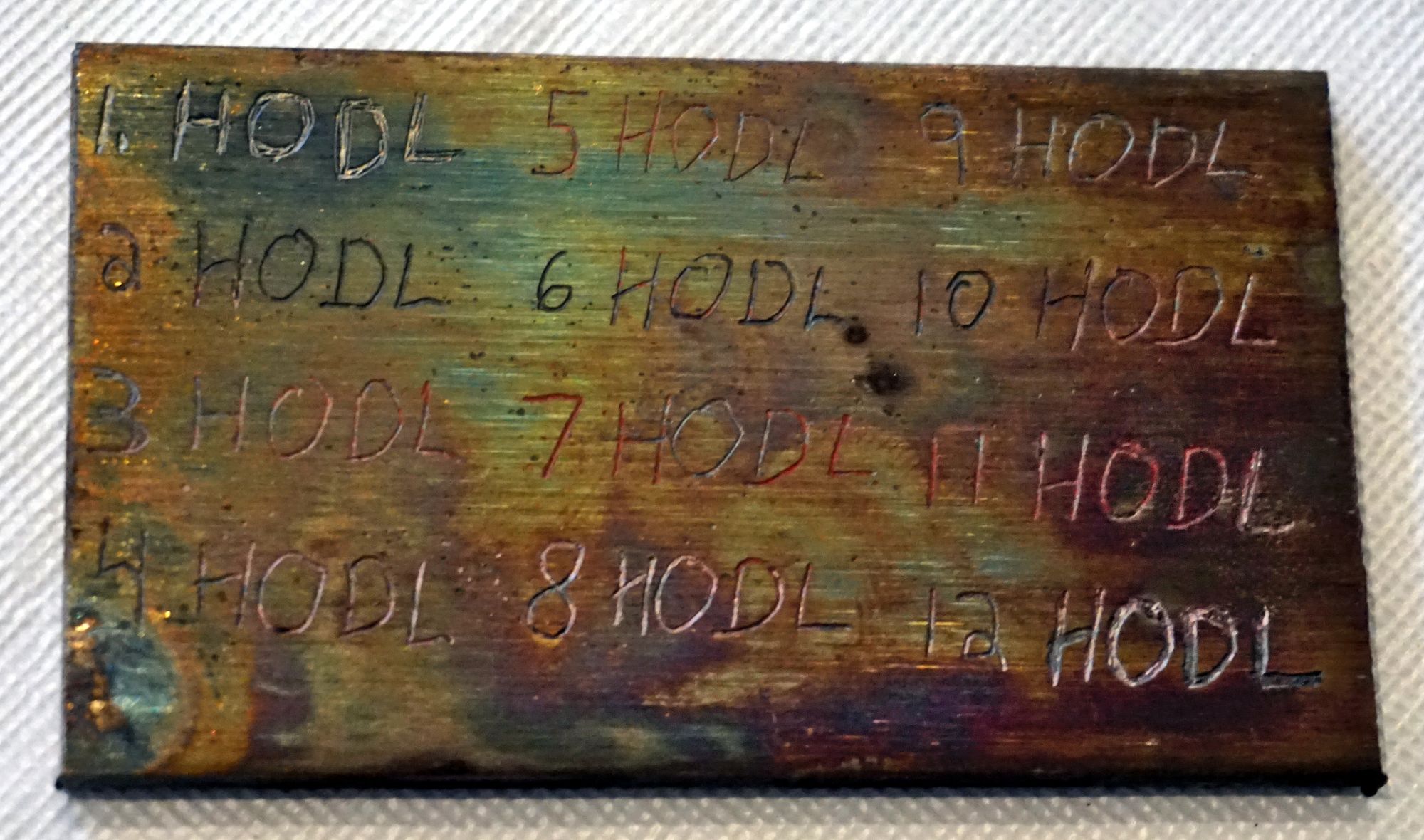 Unlike the last version I tested, the acid did not dissolve the hub around which the wheels rotate, thus the device remained intact. No data loss.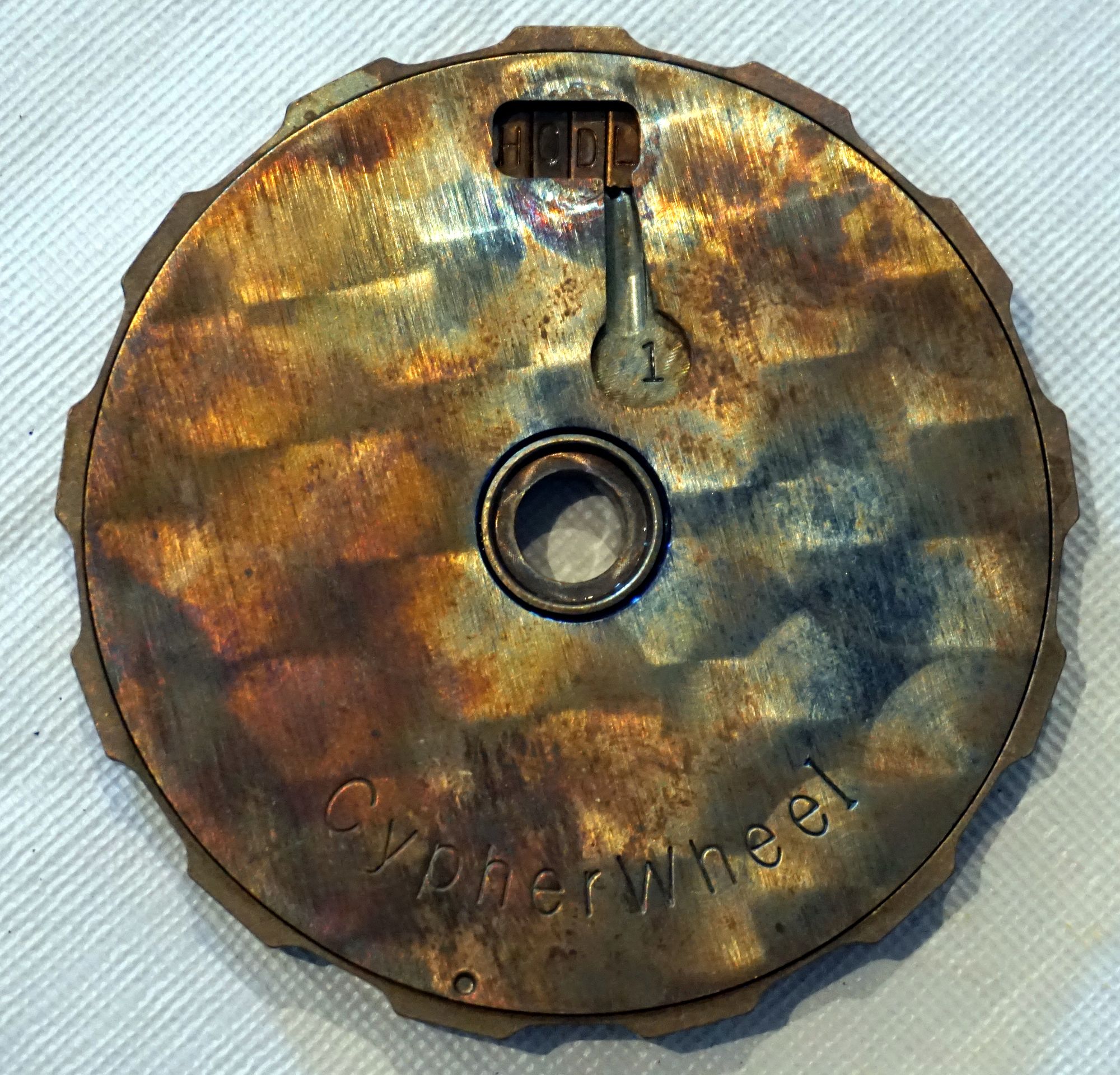 No effects.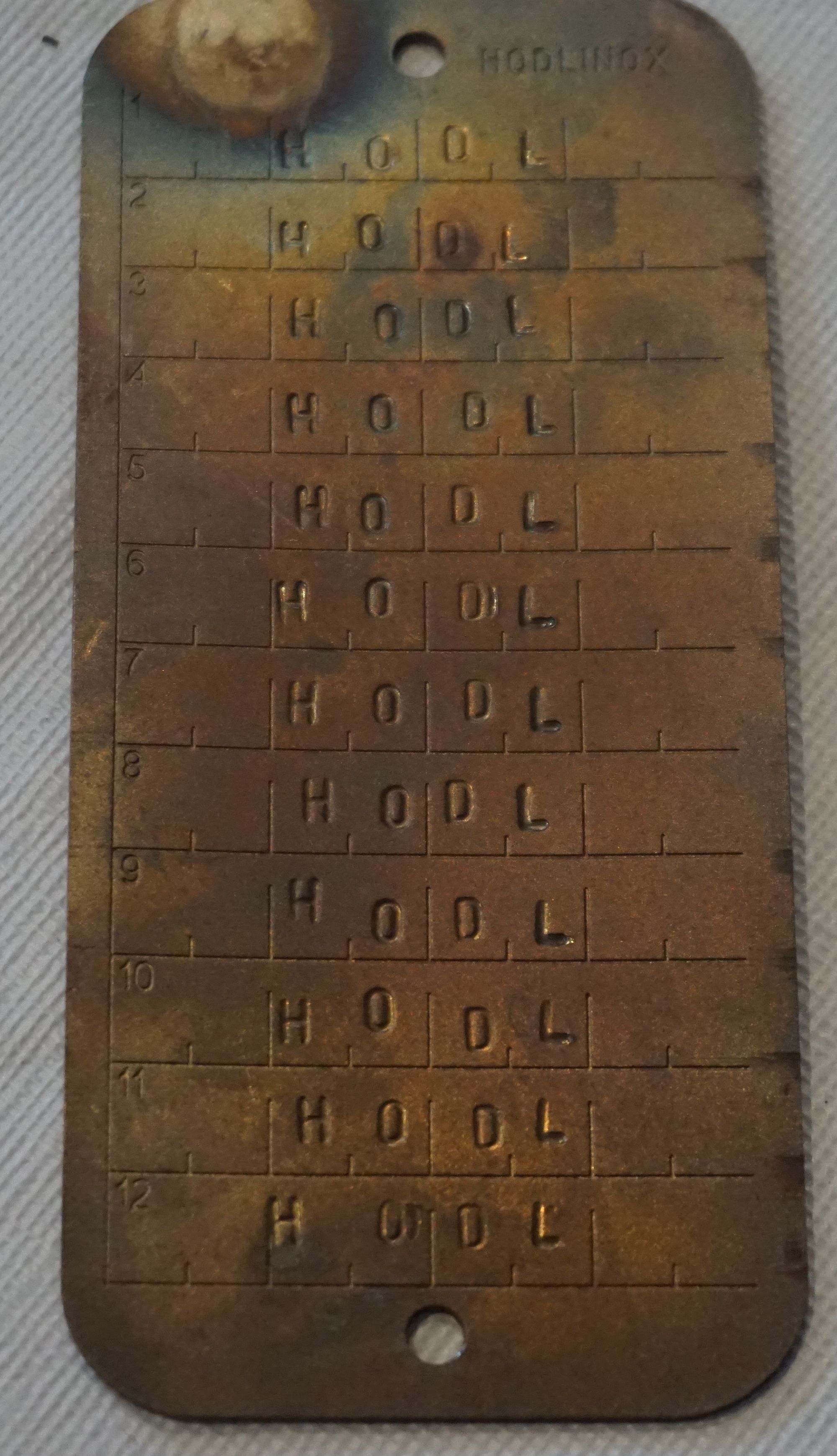 The acid seems to have cleared off some of the discoloration from the heat testing, but no effects upon the legibility of the stamped words.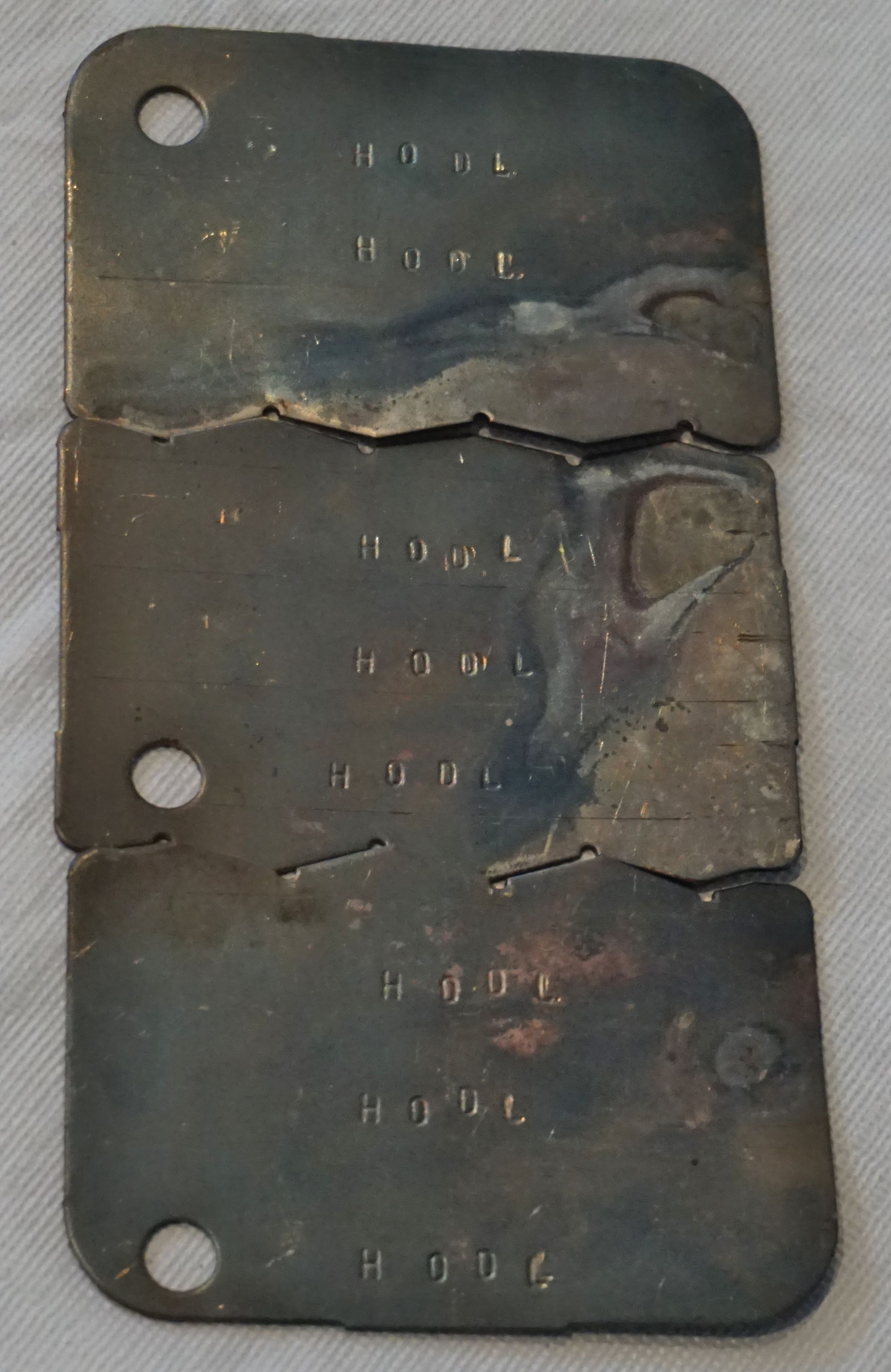 Similar to the Cryptoetch, it seems like the words are MORE visible now...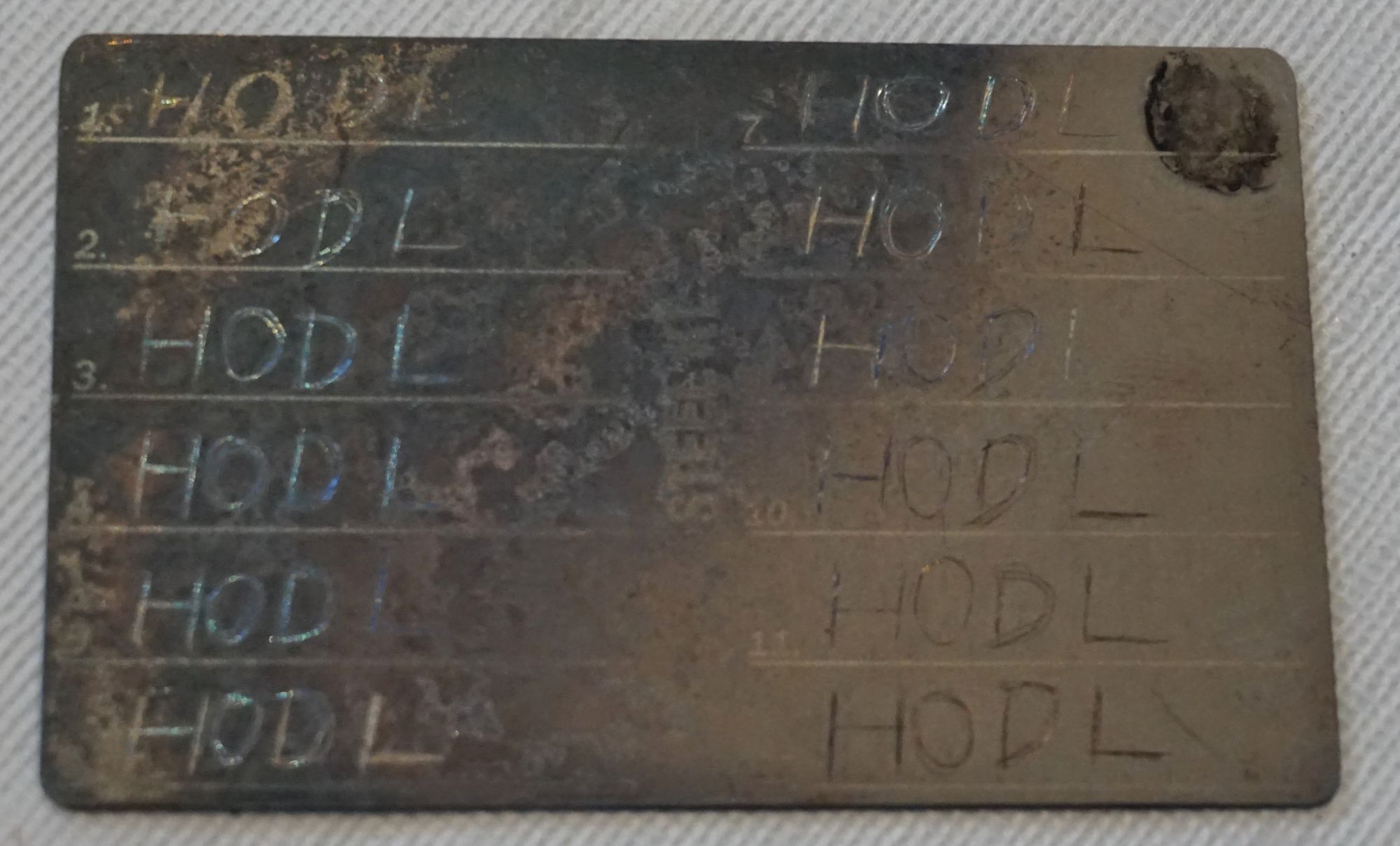 No effects.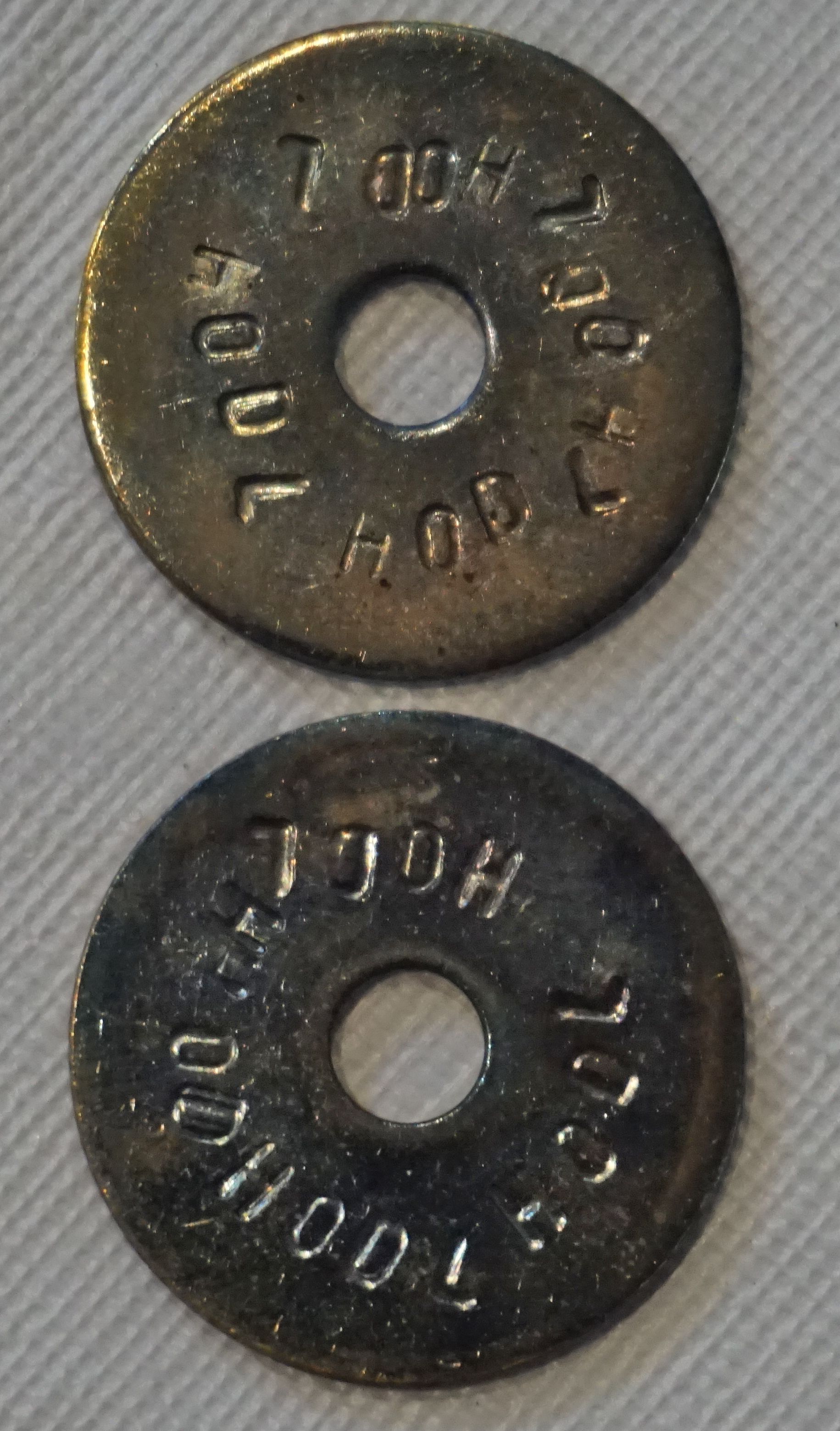 Crush Tests
I use a 20 ton hydraulic press to deform the devices and simulate something like a large building collapsing on top of the device.
Extremely robust; you can see the diamond outline of where I tried to bend it. Even 20 tons of force only managed to deform it a few millimeters.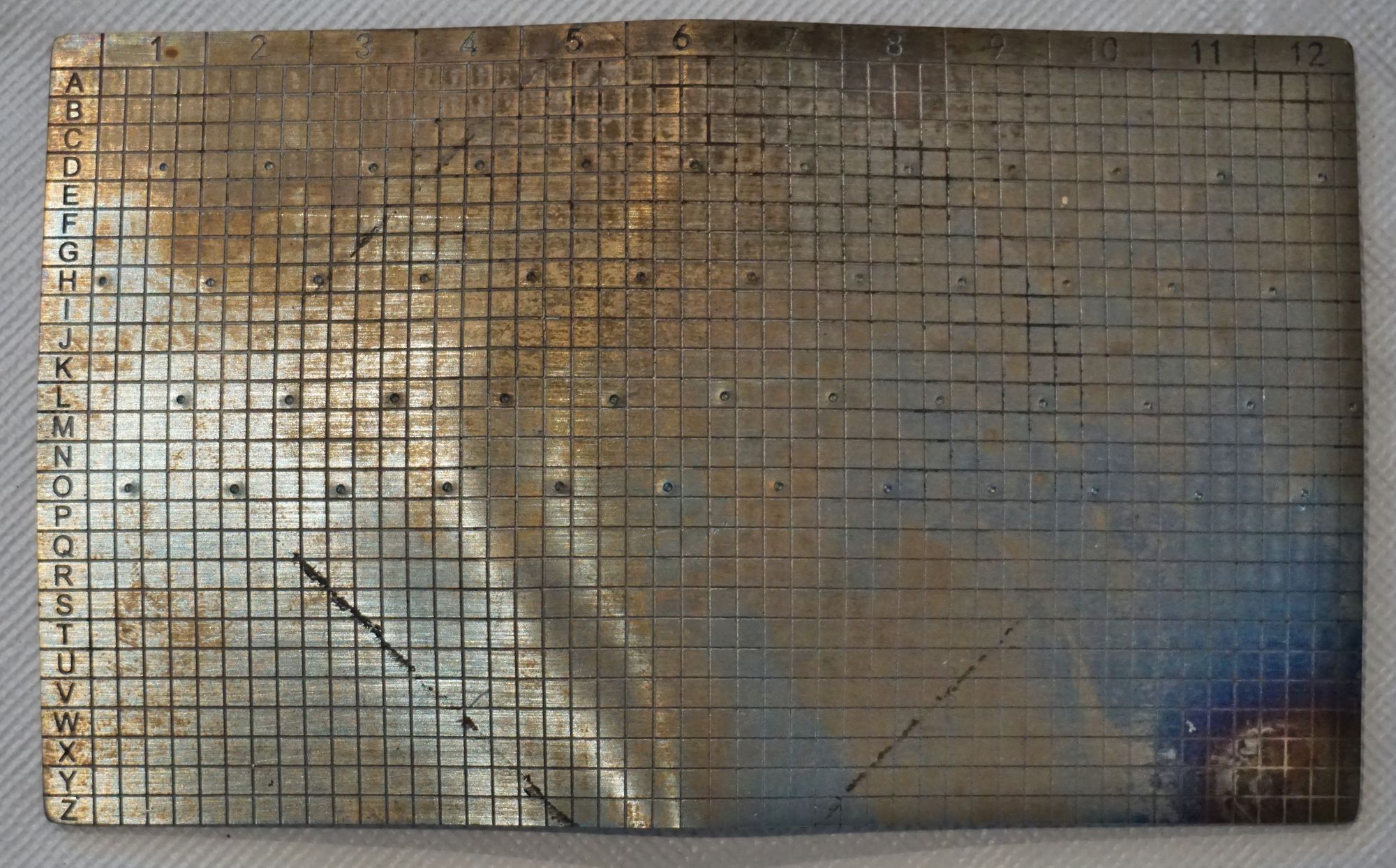 Given the thickness of this steel block, it's extremely difficult to deform.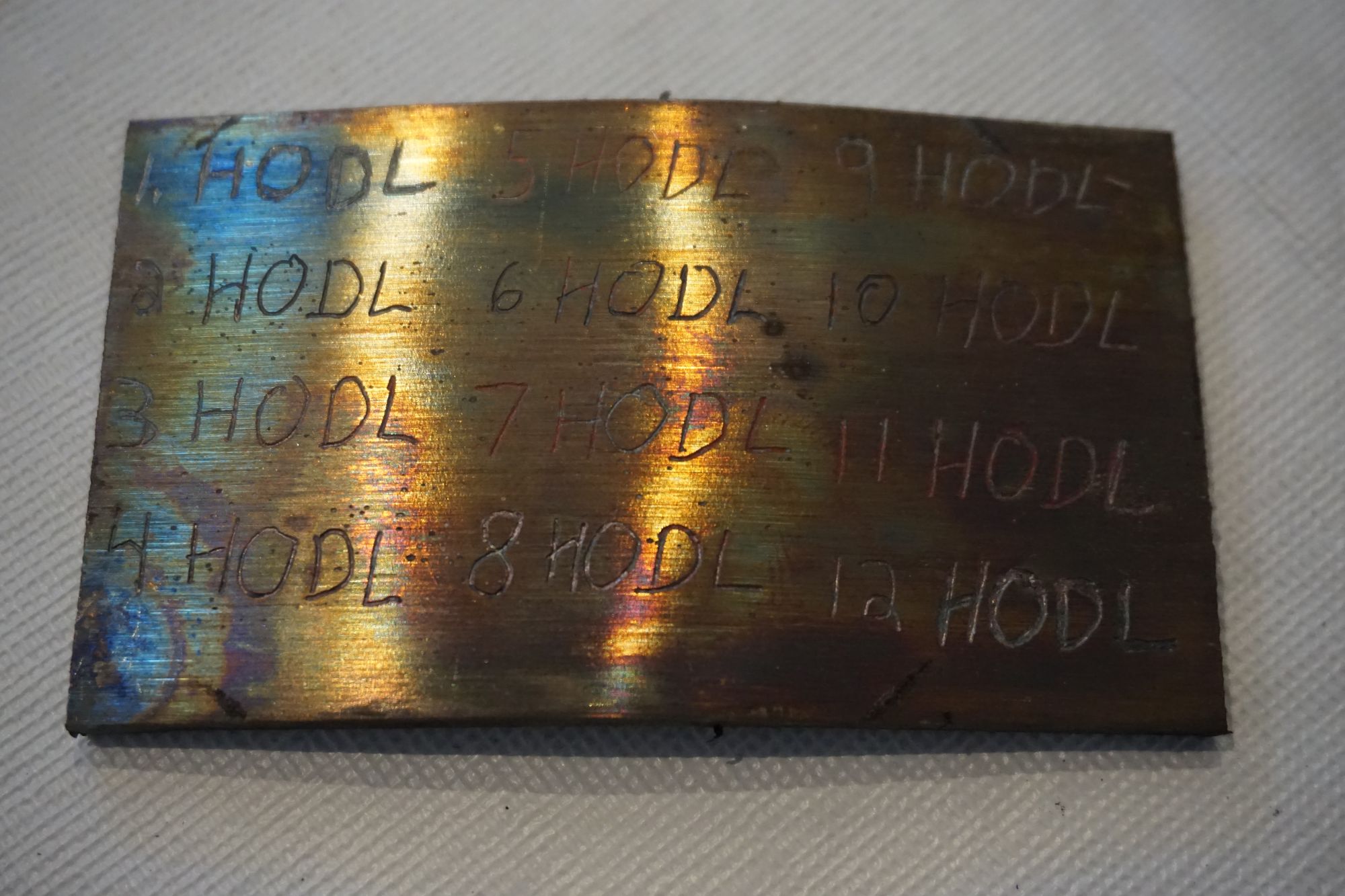 I crushed the device and was only able to get a few mm of deformation, though it was enough to make the top plate not spin freely. I was able to still rotate the back plate freely and noticed that a few of the words had the last tile fall out, presumably because the deformation loosened up the "lock" that you punch in.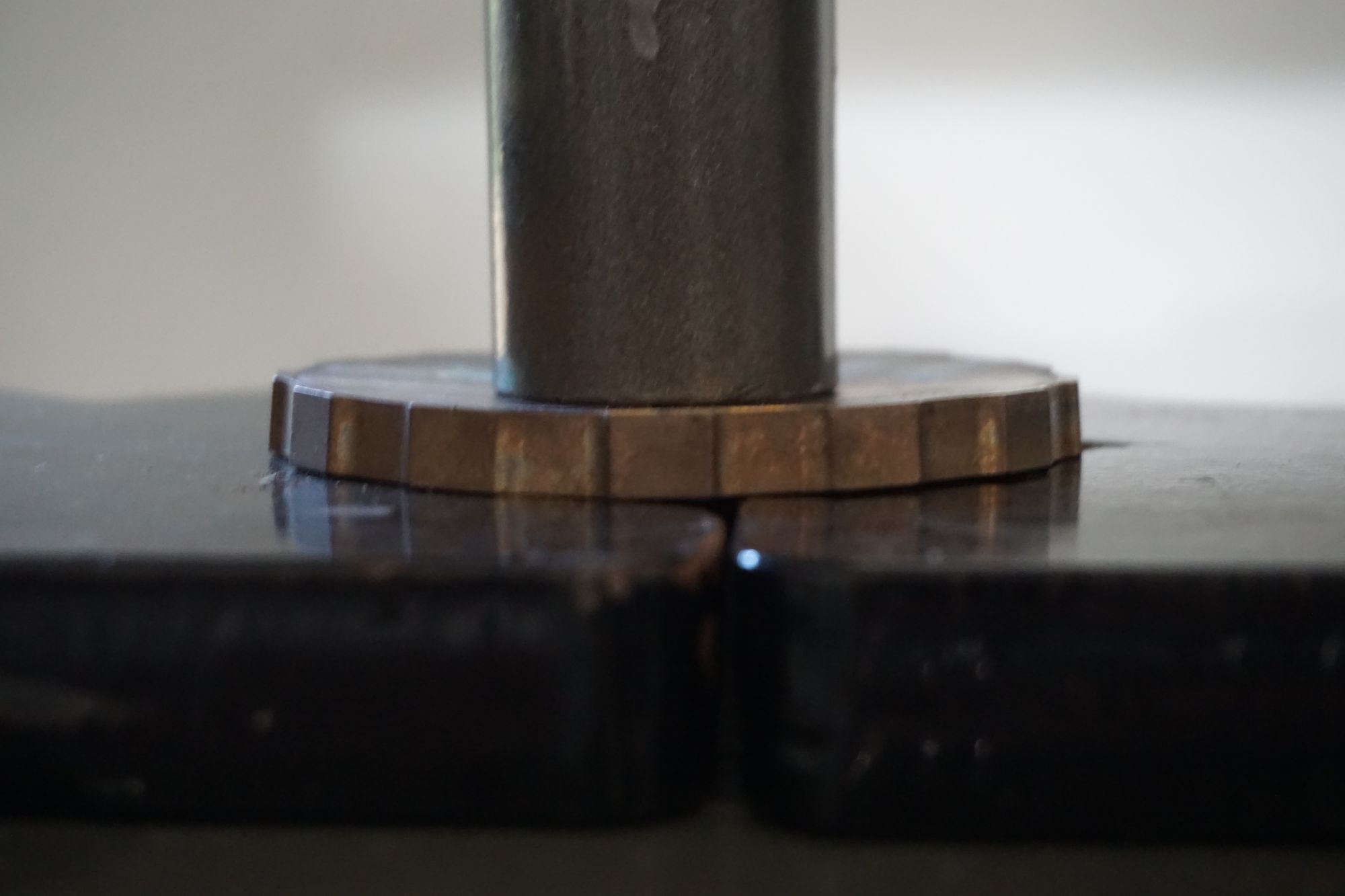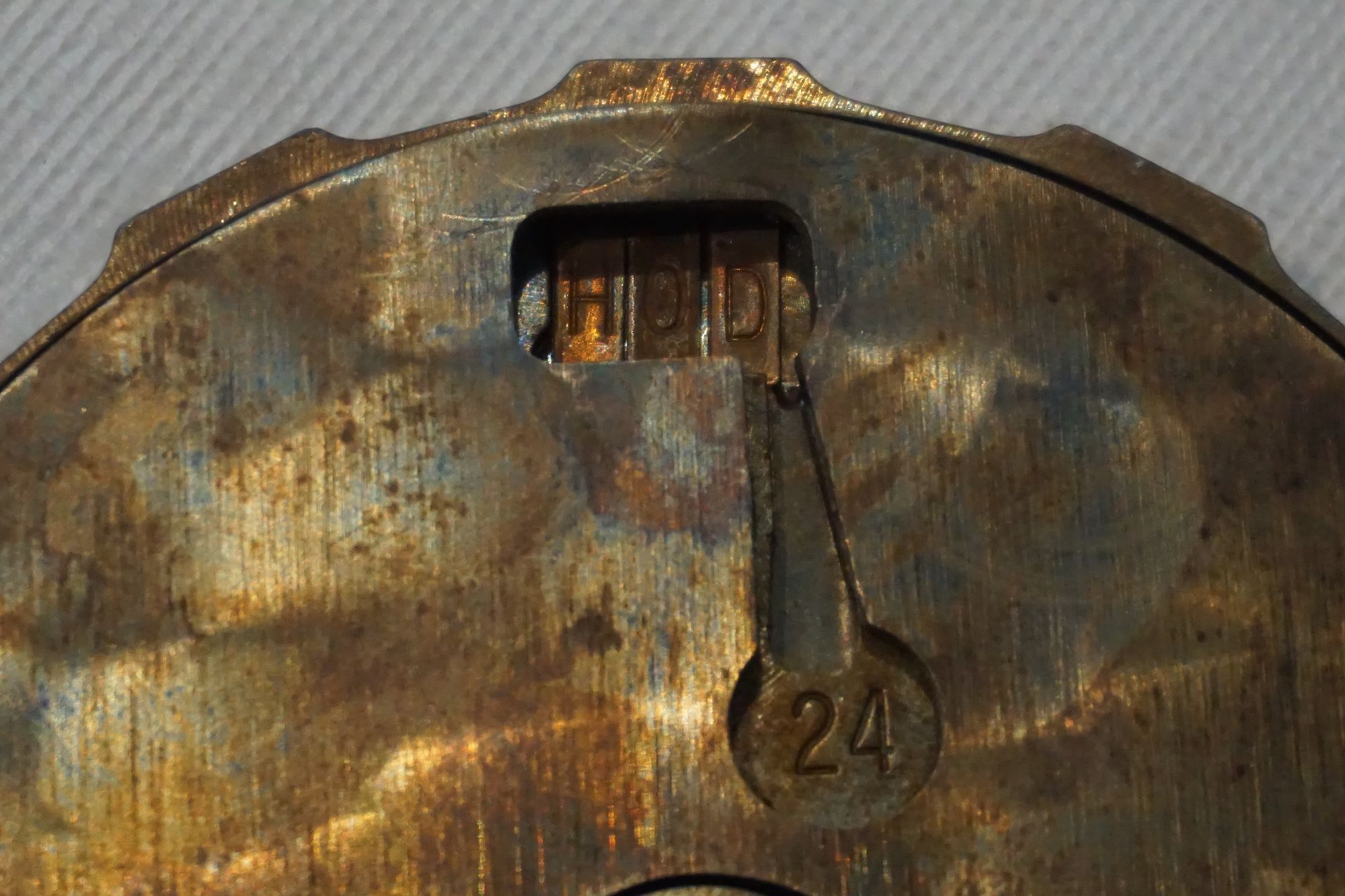 I'll classify this as partial data loss, though not catastrophic.
The plate bent more than other devices, but still no data loss.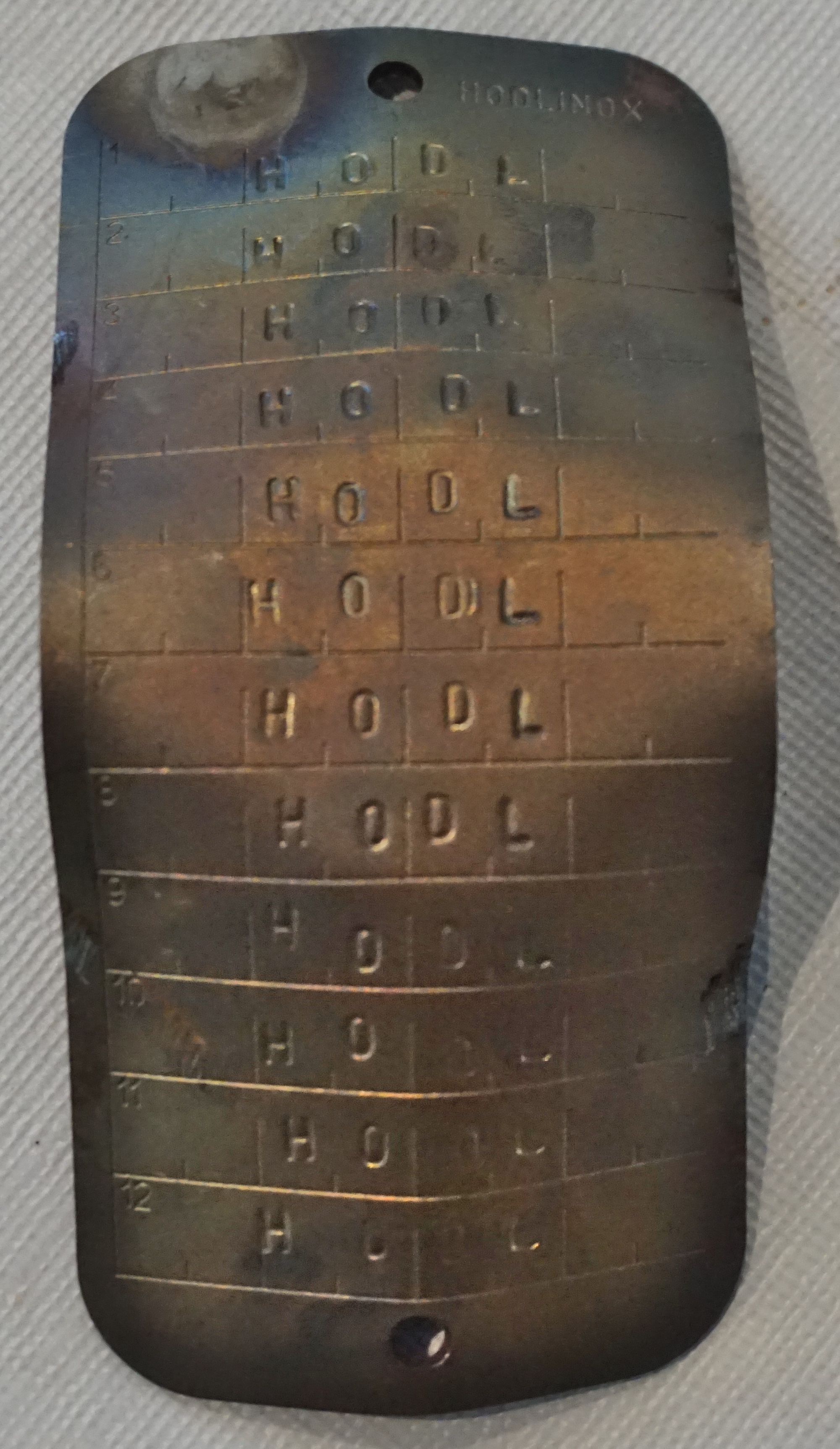 These plates also bent a fair amount but also experienced no data loss.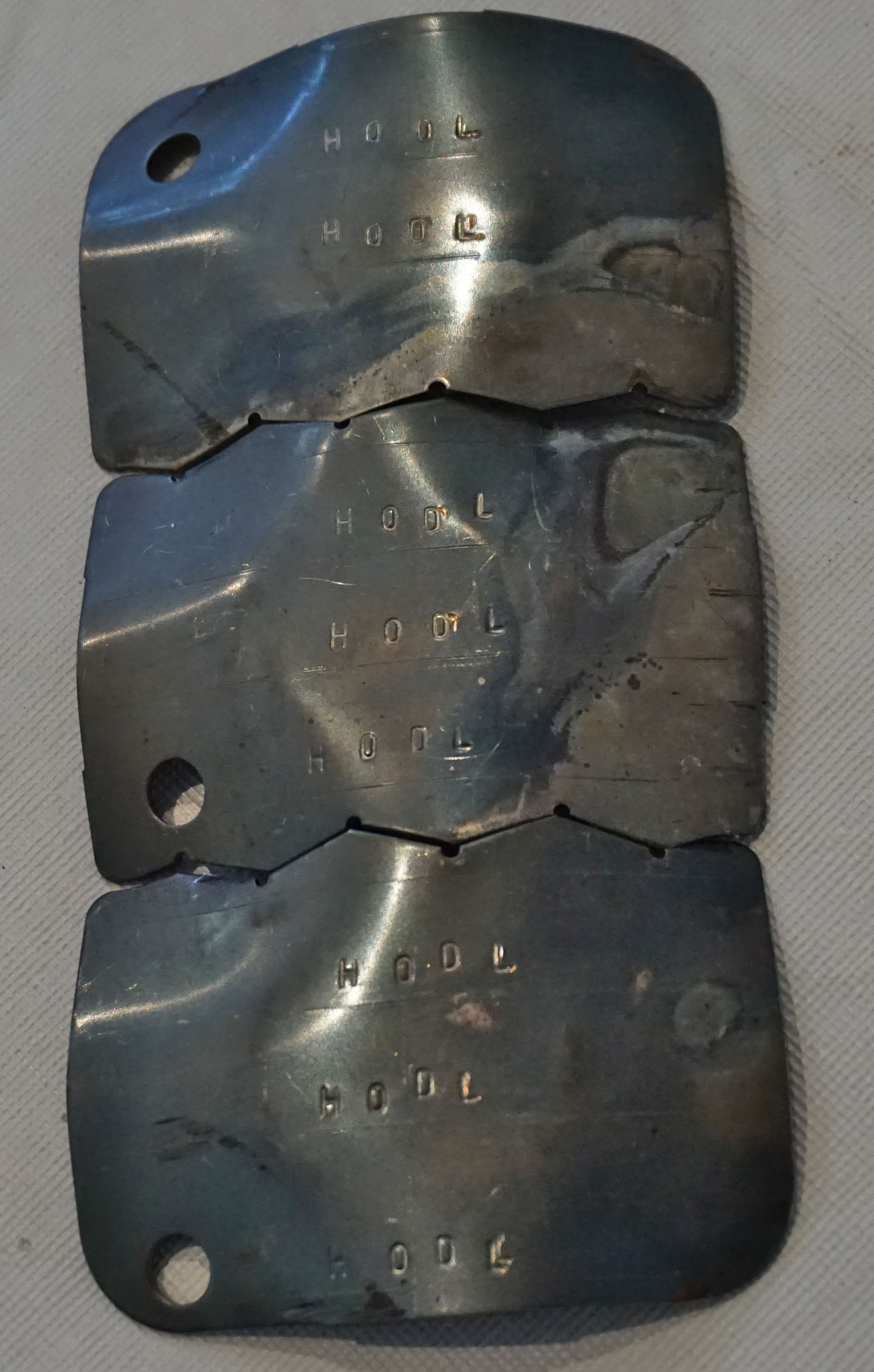 Also bent but no data loss.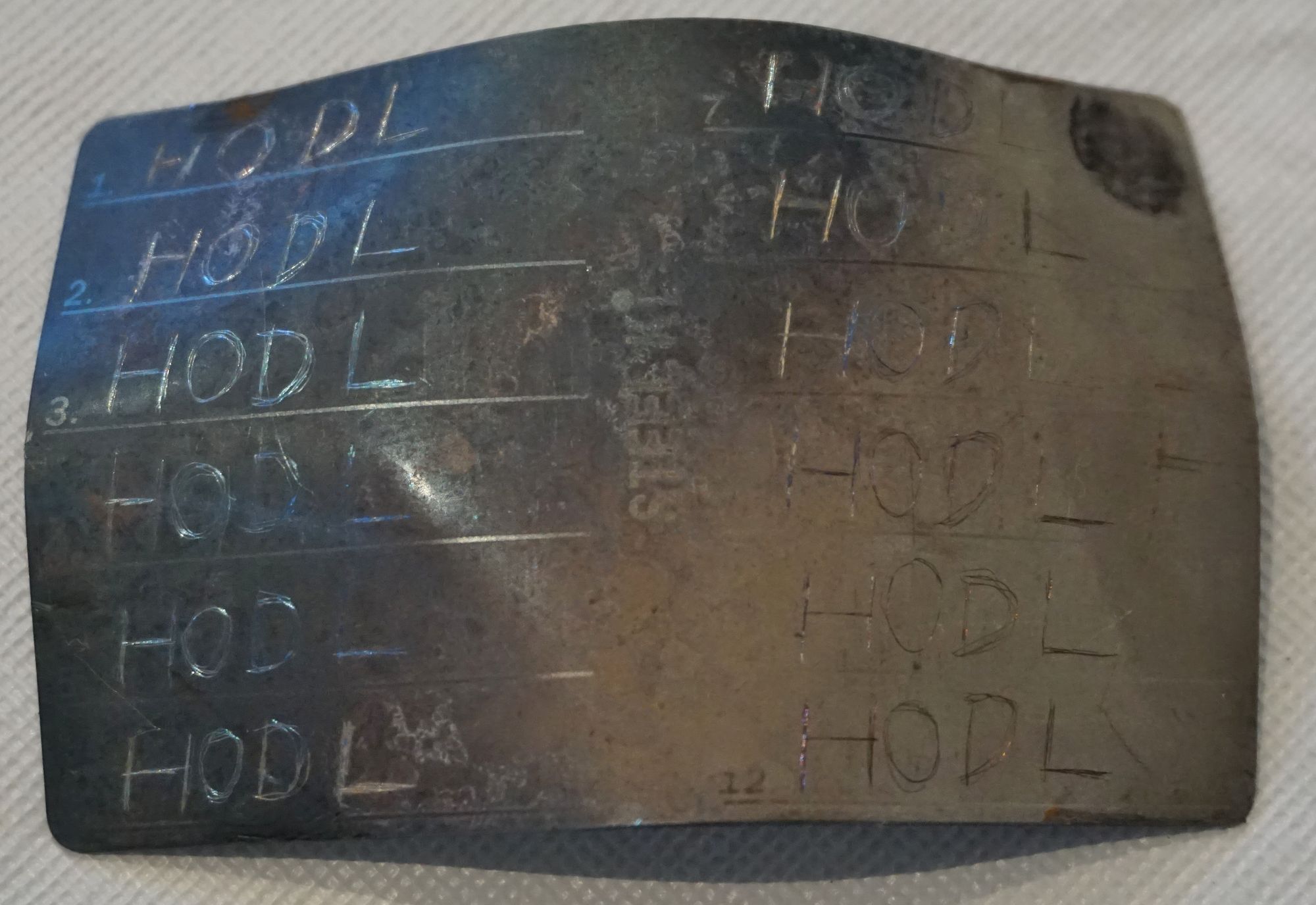 Performed better than I expected; I thought the bolt would shear off and the tiles would go flying. Clearly that will happen at some point, but it will take more than 20 tons of force to do so. Perhaps it would have performed a bit better if I had a few more washers in there to prevent there being any wiggle room.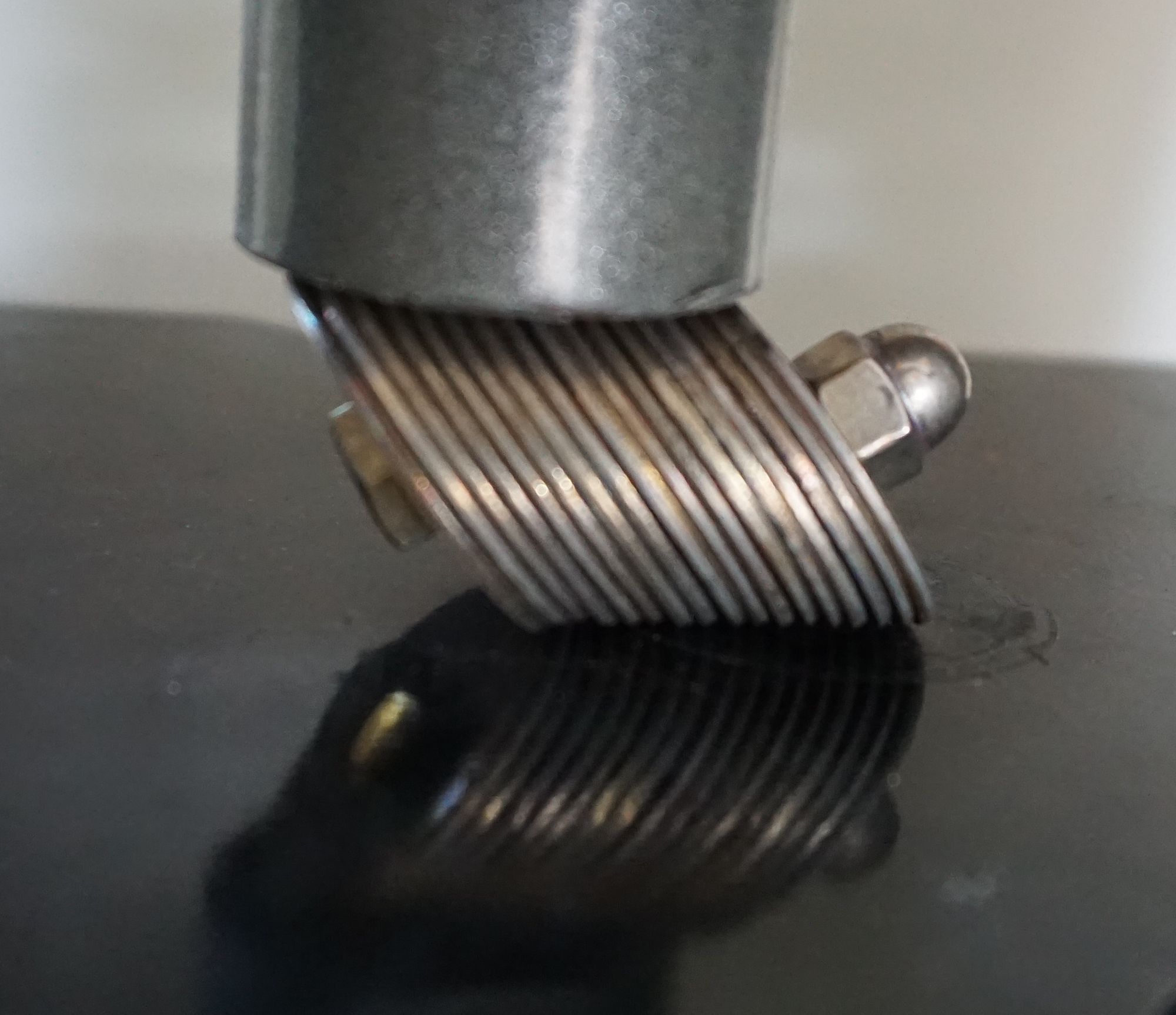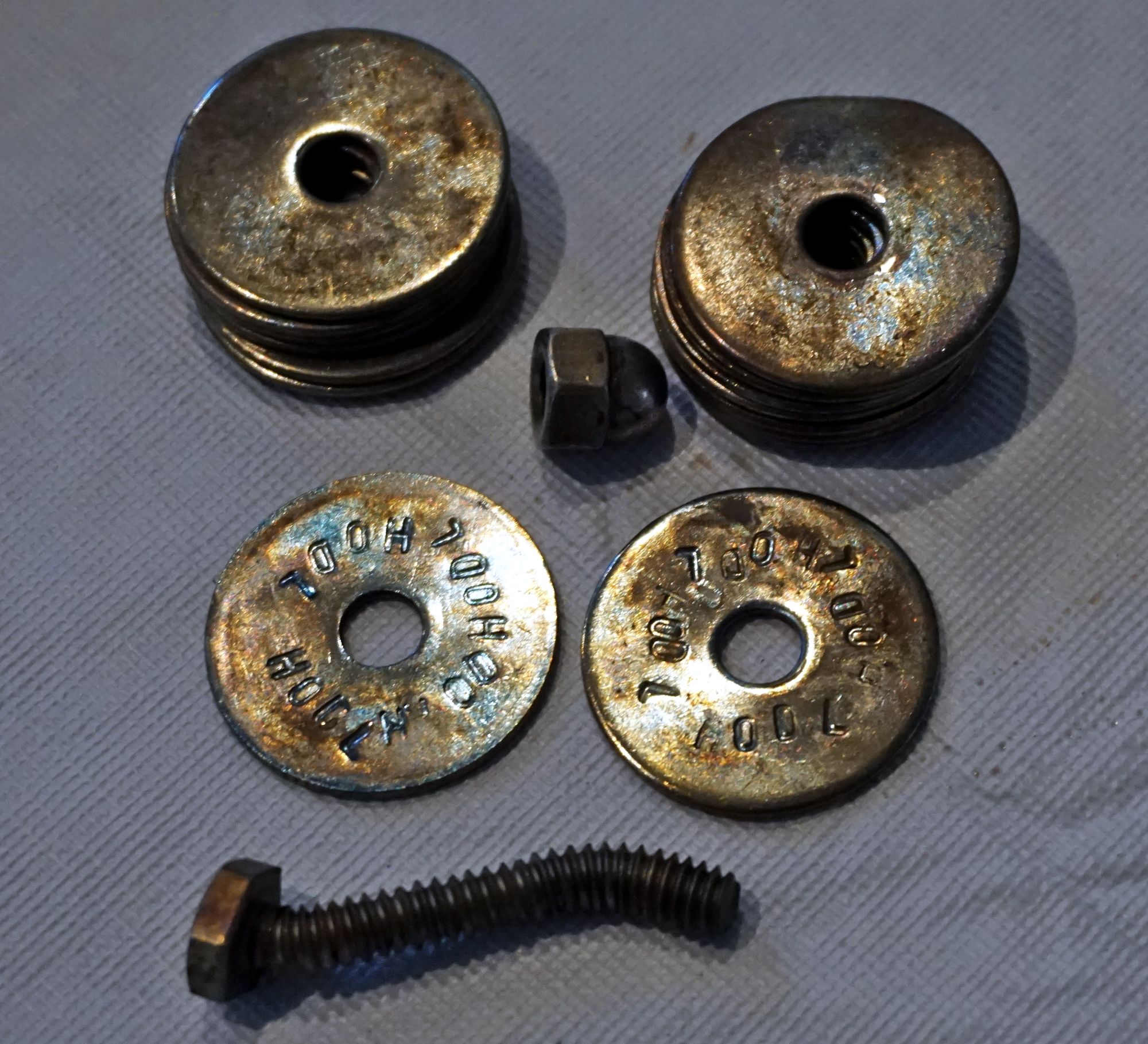 While there was no data loss in this test, I'm less confident in devices with tiles that could become loose and thus lost.
Scores
Remember that these aren't highly scientific experiments and my grading system is arbitrary - my goal is to get a sense of which devices are the most robust relative to the rest of the market. If I'm unable to cause any data loss then a device should get an "A" rating, while a device that is quite easy to destroy gets an "F" - anything in between is a grey area.
That said, this was the closest race of all the rounds of testing I've done. Any of these devices should work just fine for the average Bitcoiner.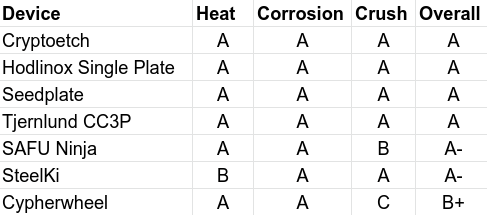 That said, if we are going for simplicity and bang for your buck, my favorites would have to be Cryptoetch and Seedplate. For around $40 each, they're incredibly robust and yet also quite easy to set up.
Final Thoughts
I really like the Cryptoetch and it has me thinking about applying electrochemical etching to other shapes. I'd really like to see a Coldbit Passphrase style hex-shaped rod product that is even thicker and dipped in varnish so that you could etch 4 words onto each side.